AMD seems to be in a spot of trouble right now, with NVIDIA revealing its new GeForce GTX 1080 video card, and then the rumors that AIB partners won't have Polaris-based cards to show off at Computex 2016. Well, it has gotten worse, with the company reportedly dragging its next-gen Vega GPU into October 2016, from early 2017.
Why? Most likely because its Polaris 10 and Polaris 11 offerings aren't enough to beat NVIDIA's new GeForce GTX 1080 - so they'll need to bring in the big guns to combat it, without considering NVIDIA has its HBM2-based GTX 1080 Ti and Titan X successor to reveal in the near future. Vega was promised for early 2017 on the latest roadmap unveiled during their Capsaicin event, where it will be a flagship GCN 4.0-based beast with HBM2 and an unknown amount of stream processors and other technology.
Polaris 10 won't be that special, as the company has said it'll be a 'mainstream part' which will most likely not be able to beat the GeForce GTX 1080 - as I said in my editorial here. The Radeon R9 390X is still a ridiculously good card, and the Fury X won't be replaced with a Polaris-based offering anytime soon. Polaris 10 should be able to match the GTX 1070, but at a price of $299 which is what we've heard from multiple sources in the industry now. The GTX 1070 is priced at $379, so the mid-range fight is going to be a good one for consumers and gamers.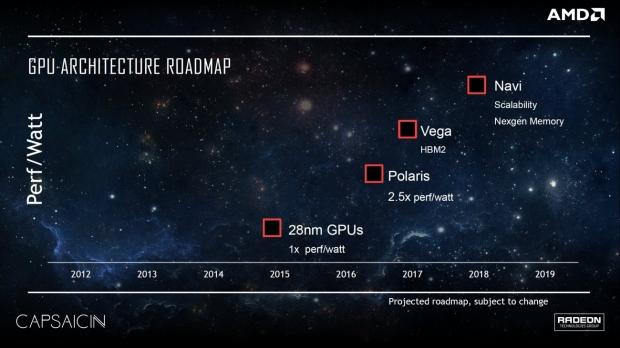 We'll be at Computex bringing you the latest, so be sure to keep your eyes peeled on the site.