After teasing a rough GPU roadmap at its Capsaicin event during the Game Developers Conference, AMD has just replaced it with an official roadmap that shows what to expect through to 2018.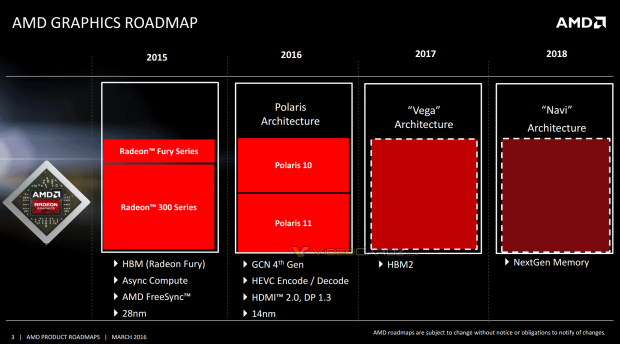 This year, we know that it's all about Polaris, but in 2017 the real fun begins with the Vega architecture as AMD will be using HBM2 on their next-gen GPU architecture. In 2018, the company will succeed Vega with Navi, which teases a still unknown "NextGen Memory".
The new Polaris 10 and Polaris 11 GPUs will feature fourth-gen GCN cores, with HEVC encode/decode abilities, the it's-about-damn-time HDMI 2.0 capabilities as well as DP1.3, and is built on the exciting new 14nm FinFET process. Now, let's get into more detail.
If we start on the left, we notice that the 2015 roadmap is filled with the Radeon Fury series, and the Radeon 300 series - with the Fury series only taking up around 1/5 of the space. The next column has Polaris 10 and Polaris 11 taking up 50% each, which is interesting as both are taking up a larger chunk than the enthusiast HBM1-powered Fury range.
Polaris 10 should arrive powering the Radeon R9 490 and R9 480, with the Polaris 11 GPU powering the mid-range and entry-level products. This is exciting, as it means AMD is shifting in a new direction, instead of rebranding its products - the Radeon 400 series should all be, new 14nm-based products.