BioWare sets up a goose cam, starts naming the geese Dragon Age names
BioWare in Edmonton has set up a Goose Cam, with classic BioWare music and Dragon Age inspired names, and you can help permanently name the goslings.
Published Fri, Apr 29 2016 10:05 AM CDT
|
Updated Tue, Nov 3 2020 12:00 PM CST
A pair of geese have taken up a nesting spot on top of BioWare Edmonton's studio's roof and so they have naturally set up a camera to lifestream the the Canadian geese that are raising their family, so you can share in the cuteness.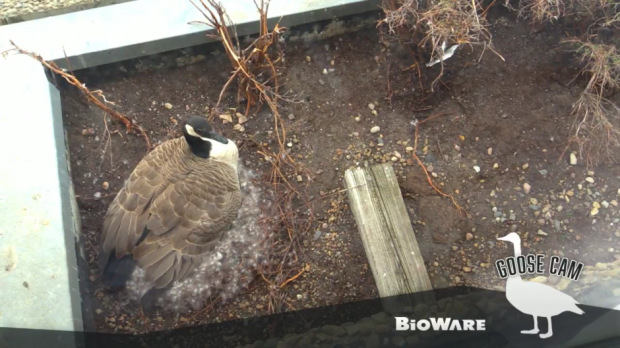 And they want you to name the goslings. The adult geese have already been given Dragon Age inspired names, though they've now created a Goose Cam Name Bracket to help permanently name the growing goslings. The female is Ganders and the male is Arishonk.
In the background they have the soundtracks to their various games playing while you watch the family enjoy the prime real-estate they've found on top of the roof. This is what life is about, isn't it? The simple things, and blending those so easily with gaming. Because why not. Enjoy the actual cam live-stream embedded after the break.
Related Tags