Samsung teases an all-in-one 'Holodeck' experience for the future
Remember the Holodeck from Star Trek? Yeah, that's something Samsung is working on.

Published Thu, Apr 28 2016 5:21 AM CDT
|
Updated Tue, Nov 3 2020 12:00 PM CST
Samsung was one of the first companies to see the future with VR, collaborating with Oculus from nearly the beginning, while building their own Gear VR headset in collaboration with the Rift maker.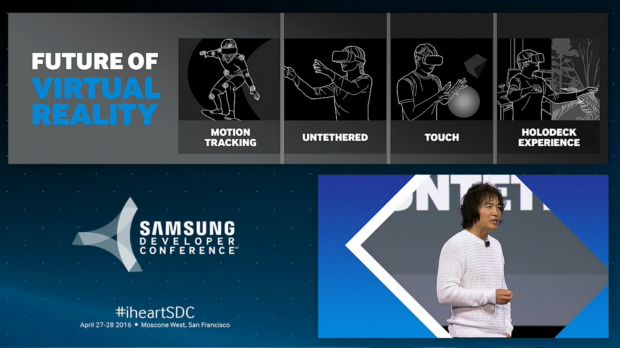 At its own Samsung Developers Conference (SDC) the company has teased the future of its plans with its research into VR, and that it thinks a future Gear VR would be an all-in-one headset, without the need of a smartphone, that could reportedly offer a 'Holodeck' experience. Yes, a Holodeck experience - bring it on.
Injong Rhee, Samsung's Executive Vice President, Head of R&D, Software and Services - which is a mouthful of a job title, said it was his personal duty to reveal Samsung's future plans. Rhee teased that Samsung is researching untethered HMD technology, which is an 'all-in-one' device that has a built-in smartphone by the looks of things. Motion tracking and touch sensors are also a big part of Samsung's R&D, which comes as no surprise considering how much better the VR experience is with better, VR-ready controllers.
Related Tags