Microsoft is offering early access to Gears of War 4 to gamers who buy the $100 Ultimate Edition.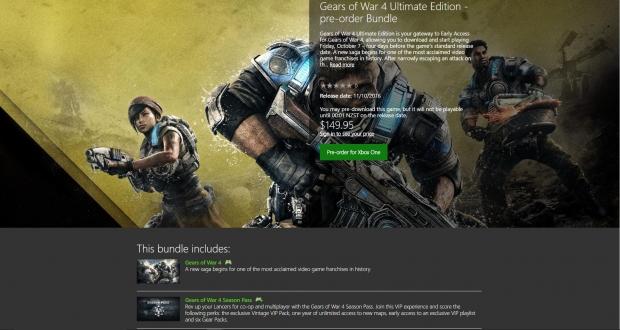 If you buy Gears of War 4's $100 Ultimate Edition, you'll be able to play the game four days ahead of everyone else. Renowned industry vet Wario64 caught a quick screenshot of the pre-sale incentive, which was previously live on the Xbox Store, but Microsoft yanked the page shortly after news broke out. The listing was posted on the Xbox Australia site with a $140 AUD price tag, which converts to roughly $108 USD.
"Gears of War 4 Ultimate Edition is your gateway to Early Access for Gears of War 4, allowing you to download the game and start playing Friday, October 7 - four days before the game's standard release date," reads the edition's main page. The Gears of War 4 Ultimate Edition includes a copy of the game and a season pass for all future DLC packs. The season pass includes access to 24 DLC maps, which will be released two per month by Coalition.
The Gears of War 4 multiplayer beta test has currently caught lots of flak from Xbox One gamers, who say the game under-performs on all fronts. The devs at Coalition games have since struck back at gamers by explaining the Gears of War 4 beta is actually comprised of pre-alpha gameplay, and isn't meant to be a demo sampling of the final game. The beta is now live for owners of the Gears of War: Ultimate Edition, and goes live for all Xbox One owners with active Xbox LIVE Gold subscriptions tomorrow, April 25.
Gears of War 4 is slated to release on October 11, 2016 exclusively on the Xbox One console.