Remedy Entertainment already working on new game in wake of QB
It seems that Remedy Entertainment may be already working on their next great masterpiece, if these resumes are anything to go by.
Published Thu, Apr 21 2016 9:05 AM CDT
|
Updated Tue, Nov 3 2020 12:00 PM CST
Remedy Entertainment, the developer of the critically acclaimed Alan Wake franchise as well as Quantum Break, isn't looking to take a break after they successfully released Quantum Break. It seems that according to an online resume for two employees there, an as-of-yet unannounced project has been underway for at least nine months already since August of 2015.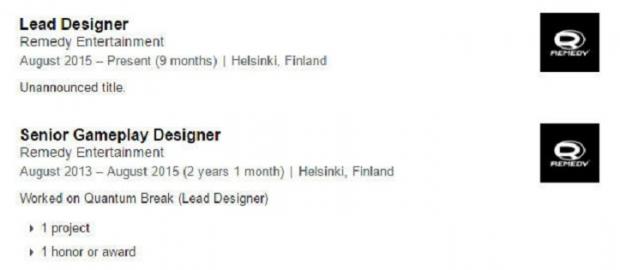 The claim comes from these LinkedIn profiles from the picture above, spotted by VideoGamer.com. We've heard this year that Remedy is not against revisiting and possibly adding onto the Alan Wake franchise. Their creative director, Sam Lake, himself has even teased that a return could also include a bit of multiplayer as well. But nothing is quite certain, and there have only been quiet ruminations regarding that. And in general, after the gigantic story that encompassed Quantum Break, they seem to have quite a few great ideas running around through the office, of which one or two are bound to become their own game.
What could it be? It's more likely that it's a new IP completely, something that possibly visits one of the many different ideas that were thrown out in favor of the time-bending narrative we received. We'll keep you apprised of any rumors or other information that might inadvertently show up before any official announcements.
Related Tags