SteelSeries is not to be outdone by their competitors with their new eSports focused minimalist keyboard; the Apex M500. They want to bring the cost of entry into the mechanical world down so that anyone can enjoy the stability and typing superiority that comes from real mechanical switches.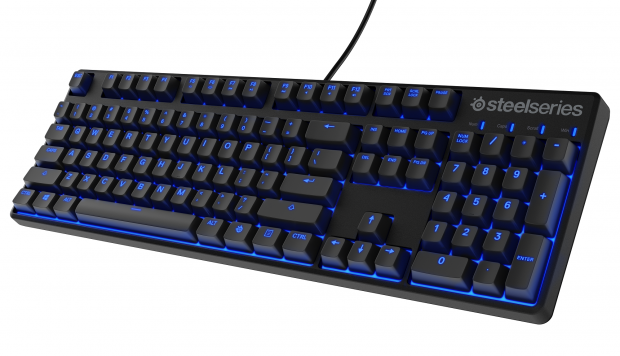 Don't be fooled by the lower price, however, because this exudes all the quality you'd expect from a SteelSeries keyboard. The comfortable, durable injection-molded keys in an attractive yet understated casing. The branding is also very low-key, simply the logo on the top right. Being a bit more minimalist and low-cost, it only comes in Cherry MX Red flavors with blue LED backlighting. You can still customize the lighting to light up on specific zones with the SteelSeries Engine. Nonetheless, a good quality keyboard with great switches at what might be seen as a bargain price for what it is. These things are expensive, costs more to make those switches, so anything approaching below $99 is fantastical. It's good to see SteelSeries taking up that segment, driving things down where possible without compromising quality.
"The APEX M500 is my new keyboard of choice. It's a tank and lives up to the quality of the 6Gv2, the mechanical keyboard that I've been using for a year now," says Kurtis "Aui_2000" Ling, Carry for Evil Geniuses Dota 2. "This keyboard is everything I think a majority of players look for when it comes to quality and feel, it's going to be a product that will be used at the pro level for a long, long time."