Remodel your kitchens in VR with IKEA's new HTC Vive game
IKEA's new VR home furnishing sim requires some pretty hefty specs like a GeForce GTX 980 and 16GB of RAM. Ouch.

Published Tue, Apr 5 2016 8:29 AM CDT
|
Updated Tue, Nov 3 2020 12:00 PM CST
Well, this certainly came out of left field: IKEA, the Swedish company responsible for furnishing millions of homes, has launched an interactive VR app that allows users to remodel virtual kitchens.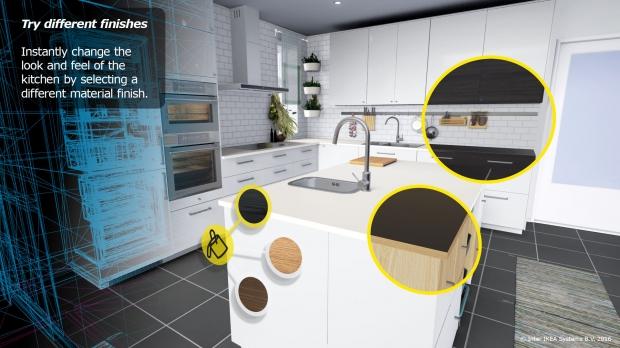 As HTC and Valve start to ship the first Vive VR headsets, the Steam VR storefront is filling up with games and virtual reality entertainment. The VIve isn't just about gaming, however; the Vive will support a host of different immersive activities including remodeling digital kitchens. The IKEA VR Experience represents a kind of proof-of-concept that highlights the swath of opportunities that VR offers, such as allowing everyday people simulate and map out home alterations and experience them in full 3D.
The app is only limited to a kitchen area for now, and users can make alterations like swapping out floor and surface materials, as well as interact with objects and see through a child's point of view. The kitchen is fully scaled to a real-world size and apparently there's a nifty teleport function. IKEA notes that the app is a "test pilot app", and that the company plans to support the software until August 2016, so we could eventually see all kinds of different rooms and furnishings added. It'll be like the 3D tours you take when you're thinking about buying a home, but this time it'll be much more realistic.
"Virtual reality is developing quickly and in five to ten years it will be an integrated part of people's lives," says IKEA exec Jesper Brodin. "We see that virtual reality will play a major role in the future of our customers. For instance, someday, it could be used to enable customers to try out a variety of home furnishing solutions before buying them."
Oh, we can't go without talking about the app's required specs. For some reason the IKEA VR Experience requires 16GB of RAM as well as an Intel i7 4790K CPU and an NVIDIA GeForce GTX 980 video card. Who would have thought remodeling your kitchen would be so performance-intensive? I guess it's only fair considering the app is built with Unreal Engine 4, but still.
Put on your VR headset and prepare to explore our kitchen in full 3D.

Enjoy walking around and interacting with some parts of it just like you were there.

Instantly change the look and feel of the kitchen by selecting a different material finish.

Explore the kitchen from a child's point of view or as a tall person.

Find the drawers that can be opened. Pick up a frying pan and place it on the stove.

Recycle the vegetable skins in the waste sorting station.

Try our "teleport" function.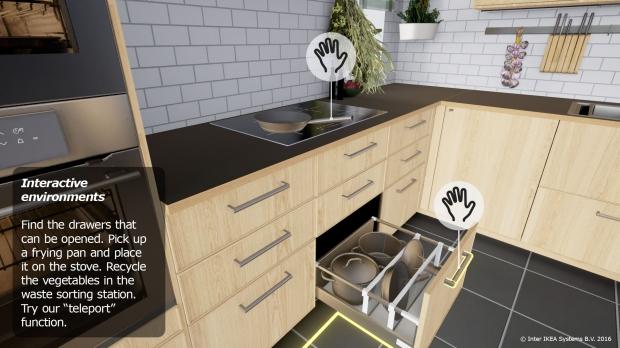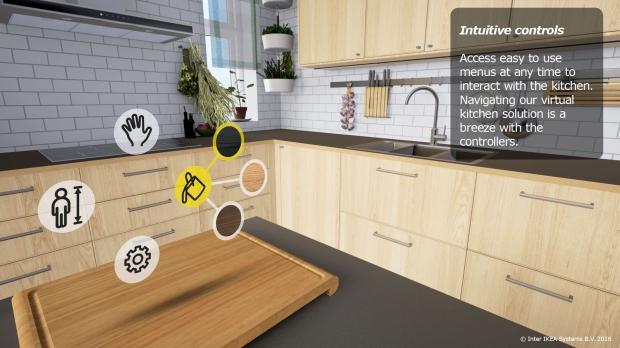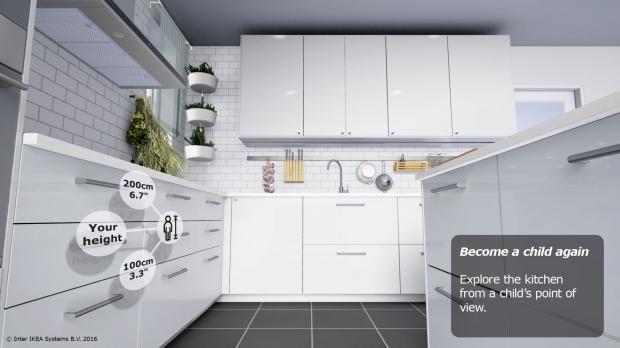 Related Tags