If it weren't for the exclusive carbuncle unlock, the new Final Fantasy 15 demo would be completely pointless.
After Square Enix revealed the new Final Fantasy 15 Platinum Demo, I was super excited to try it out. After all, the demo represents a chunk of the finalized game, mirroring the combat scheme and optimized graphics we'll see in the finished product this September. My excited quickly evaporated when I started playing the demo, which is essentially a lackluster attempt at catering to casual gamers, totally betraying the very essence of the enthralling action-packed adventure we'd seen in the trailers.
Instead of the rip-roaring mayhem and carnage, we're given a cutesy adventure that depicts Noctis' dreams. The idea sounds neat enough, but the execution was so lackadaisical and underwhelming that I earnestly wanted to quit mid-game. Luckily the demo isn't long--but isn't that a bad thing? It's a bad sign that you want the entire experience to be over as soon as possible, right?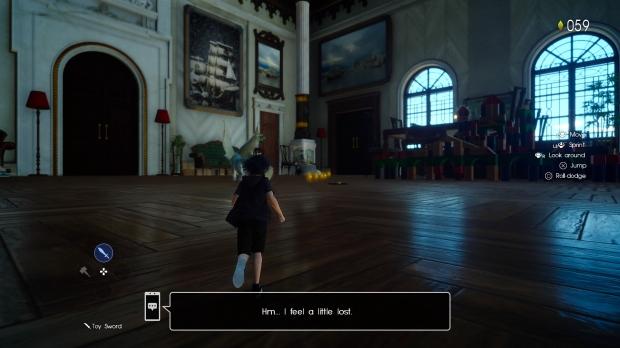 Most of the demo is quite demure, even for a Final Fantasy game. It honestly reminded me of a Kingdom Hearts platformer with all of the meaningful elements torn out, leaving an unsatisfying shell of a mobile game behind. As kid Noctis you're limited to two weapons and a handful of firecrackers, which act like magical attacks. Noctis fights three different enemies, which appear as cute phantoms within his dream--but the combat is so boring, so utterly rote that I found myself just avoiding them on site.
What's worse is the demo has a kind of Crash Bandicoot-esque "find all the hidden diamonds!" gimmick. I fell for this gimmick, trudging through the different areas--which are quite beautiful, I must say--just to find the yellow crystals. As far as I can tell, collecting the crystals doesn't actually do anything.
I have to say that the transformations were neat. When you navigate through the demo, you'll land on these nodes that sometimes turn you into vehicles--yes really. Enemies can even use magic to transform you into a rampaging wildebeest. But even these things were stunted and graceless--the vehicles had awful maneuvering, and the beast was just way too cumbersome.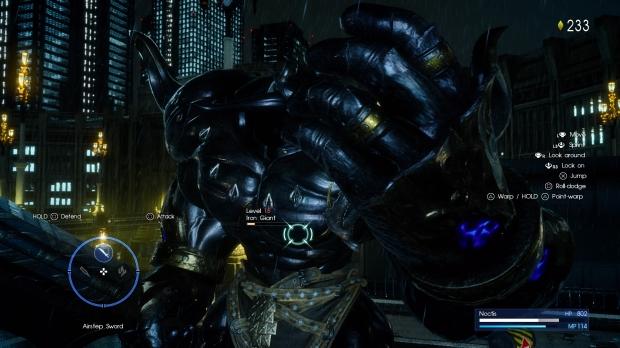 The only real fun the demo offers is a small climactic battle at the very end. Here Noctis transforms into his grown-up self to take on a hulking Iron Giant. This is the only fight that's even the slightest bit enjoying, and as far as I'm concerned, it's the only moment in the game where I had fun. Kind of, at least.
This single mini boss-battle is all you get. Noctis only has two weapons at his disposal, and only has the warp technique available. Sure it's a nice taste of that deliciously chaotic combat shown in the teasers, but it's not nearly enough. You can keep spawning the Iron Giant to fight him over and over and over again if you want, but I stopped after the third fight.
Yes, the game is beautiful. The environments are incredible. But they're so devoid of life, so stale and empty that they feel soulless. What's more is that the Platinum Demo has a huge problem with its camera. I noticed the same awkward camera reeling while playing Episode Duscae, the first FF15 demo. It appears Square Enix hasn't fixed it just yet--hopefully they will.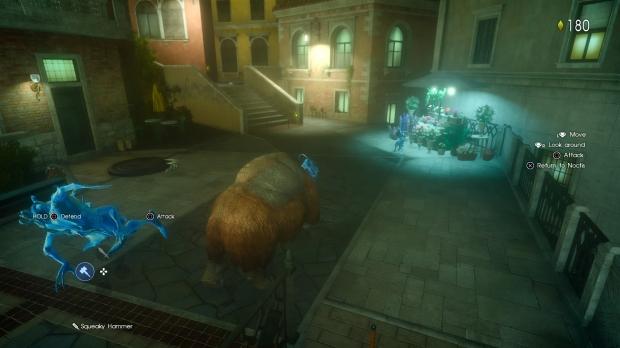 The biggest problem with the camera is that it doesn't pass through walls or objects--it just pushes against them, colliding with them. So fighting in tight-spaced corridors is an all-but-impossible exercise in frustration. It really hampered my exploration of the city, and I found myself avoiding locations just so I wouldn't have to deal with the awkward camera.
The only reason to play the Platinum Demo is to unlock the carbuncle summon. That's it. It's not enjoyable, it's not cheeky--it's just a crumb of gameplay that feels more like a pre-order vehicle than something substantial. The demo has a direct path to pre-order the game on the main menu, and asks you if you'd like to pre-order FF15 upon completion. Square Enix is literally trying to sell us a game based on this flawed, empty experience, and it really is rather disappointing.
It's a shame, too, because Square Enix did such a fantastic job with Episode Duscae. Episode Duscae smashes the Platinum Demo in every regard, reducing it as some pathetic freemium mobile game without any actual substance. Just download the demo, beat it, grab your carbuncle, and delete it right away. I'd rather not play it than be stuck with such a small taste--it's not even enough to adequately whet our appetites, which is the entire purpose of a game demo.