New Overwatch story footage shows us the magic of gorilla scientists
Blizzard shows off a hilarious and entertaining character bio clip that shows eight minutes of Overwatch's story.

Published Mon, Mar 21 2016 7:31 PM CDT
|
Updated Tue, Nov 3 2020 12:00 PM CST
Blizzard has just released the first eight-minute animated short for Overwatch, giving players much-needed backstory for the game's scientist gorilla Winston. Since Overwatch is multiplayer-only, its' super important that Blizzard releases these clips to tell the stories of the game's many characters--and so far it's quite magical.
The clip, entitled Recall, not only gives us a look at Winston's backstory but also tells the main story of Overwatch. Winston is a super-badass scientist gorilla (who very much reminds me of Beast from X-Men) that runs an advanced labratory tied with the International Justice Commission, a government arm. Essentially, Overwatch is a group of super elite operatives who are sent in to solve problems--kind of like the Justice League. But instead of being hailed as heroes, Overwatch agents are now treated as dangerous weapons, with international sanctions against the order.
The video is touching, revealing, and rather entertaining all at the same time, and gives key inference to the multiplayer-only arena shooter. Blizzard plans to release a bunch of these animated shorts in the future to highlight the game's various characters, so keep an eye out.
Overwatch will enter its free open beta test starting May 5-9 across all platforms, and is slated to release on May 24 on PC, Xbox One, and PS4.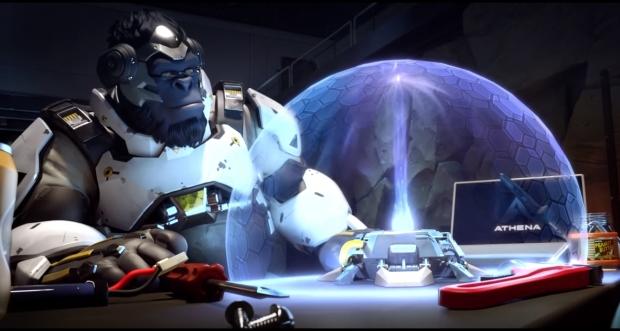 Related Tags