Overwatch release date accidentally leaked by Blizzard advertisement
Blizzard's own ad campaign accidentally spoils Overwatch's launch date.

Published Mon, Mar 7 2016 12:36 PM CST
|
Updated Tue, Nov 3 2020 12:00 PM CST
UPDATE: Blizzard has officially confirmed Overwatch's release date on the game's official website, and a pre-order exclusive open beta will begin on May 3.
An advertisement featured on IGN has prematurely leaked the official release date for Overwatch, Blizzard's new arena-style FPS.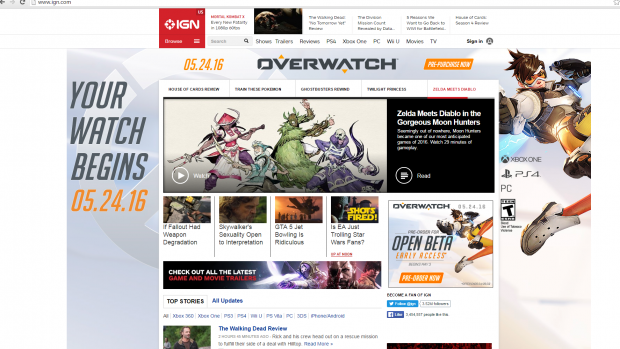 According to the ad (see above), Overwatch will release on May 24 across PS4, Xbox One, and PC. IGN has since pulled the ad from its website, but the evidence has been immortalized thanks to screen grabs. Apart from the release date, the promo revealed that another pre-order exclusive beta test for Blizzard's multiplayer shooter is set for May 4.
If you're not familiar with Overwatch, the game is essentially Blizzard's unique spin on squad-based combat. The game will feature six-on-six team-based action, with a ton of unique and stylish characters to use in-game. Players will have four different MMO-style roles to choose from--Offense, Defense, Tank, and Support--to fit their different playstyles. Although Overwatch has a storyline, it won't have a singleplayer campaign, and is multiplayer-only.
Blizzard's Mike Morhaime says the whole reason the studio made Overwatch was to "create an awesome FPS experience that's more accessible to a much wider audience while delivering the action and depth that shooter fans love." Remember that Overwatch won't be free-to-play, and is a full-priced $59.99 game.
Related Tags