You can already pre-order Battlefield 5, among other unreleased games, from an online retailer based in Switzerland already. On their site they've placed details that seem to presume what the game will be about, with no actual evidence to back up their claims.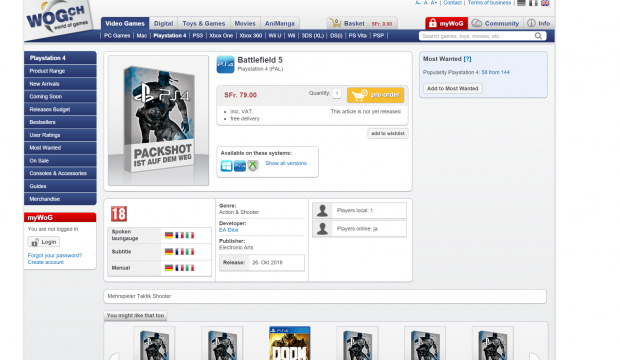 While we know that that another Battlefield is coming this year, as sure as the wind blows in a storm, no details have been released and it's likely that this particular retailer doesn't actually have any real information from EA. Any details are assumptions based off of previous games. It's a safe bet to think that it's going to be an online, multiplayer shooter, and it's not a stretch to think that it could be set in an era we haven't visited in awhile, or at all, to keep it fresh.
Apparently the description has been changed since it was first reported by PCGamesN, and it no longer says anything about WW1. Though it would be quite refreshing to have something new, even if it isn't true to the actual combat style. Trench warfare, while deadly, frightful and not fun in real-life, probably wouldn't translate to a game very well. Verdun is a fascinating game, but it also takes some creative liberty to make it more interesting for gamers to play.