Xbox Live still experience widespread issues with purchasing content
Xbox Live services seem to be down once again, with certain limitations on downloading and purchasing content. The issues are being looked into.
Published Tue, Feb 23 2016 11:47 AM CST
|
Updated Tue, Nov 3 2020 12:01 PM CST
Earlier this morning (EST) the Xbox Live service was experiencing some unscheduled downtime that affected a number of different users, 15 hours of downtime total. The issues were supposedly fixed and the Xbox Live service up and running, but it seems that there are still some issues in regards to purchasing content from the store and with using EA Access.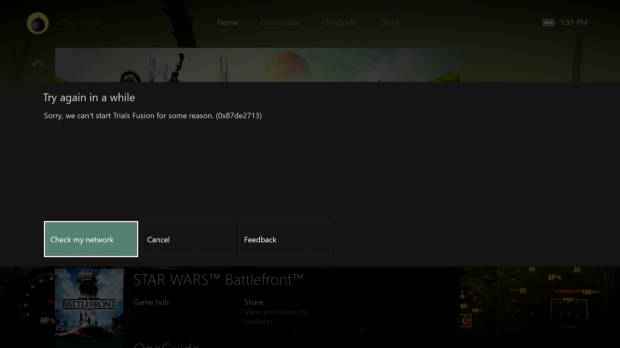 An error you might encounter
Users are reporting that they're having difficulty actually buying or even accessing content from the store, from movies to games. Even more it seems that users are even having trouble downloading games they already own. EA Access is similarly affected, in that you'll be unable to actually download any of the games from the Vault or otherwise.
The ongoing issues should be resolved shortly, but we'll keep you apprised of the situation as it unfolds. Hopefully this is just a small network error and not related to any sort of cyber-attack, amateur or otherwise. Microsoft has an official statement on their status site, saying "We understand some of you might be having a tough time signing in to Xbox Live. Additionally, we realize that some of you are experiencing issues purchasing new subscriptions or managing existing subscriptions. We want you to know our top engineers are on the case and are working toward a fix. Thanks for your patience in the meantime! We will provide an update as soon as we know more."
Related Tags