Huawei announces the MateBook, their Surface competitor
Huawei just announced the MateBook, their first hybrid PC coming to the US at MWC today.
Published Sun, Feb 21 2016 12:12 PM CST
|
Updated Tue, Nov 3 2020 12:01 PM CST
Huawei today announced their own take on convertible PC market today, expanding into the Windows realm of devices while bringing their mobile expertise to bear. The MateBook is a 12-inch Windows 10 hybrid tablet designed to one-up Microsoft's own premium Surface line.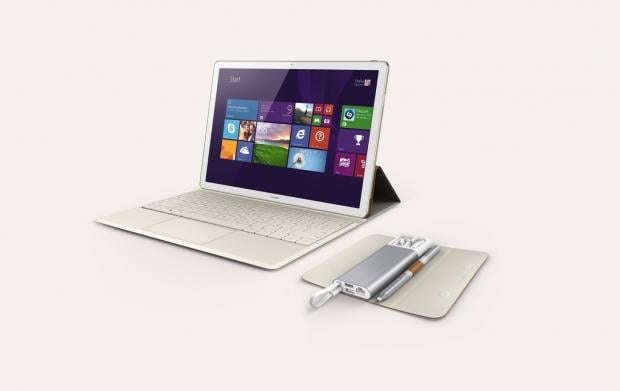 Their first foray into laptop territory is an attractive looking device at only 6.9mm thick and a surprising 1.4 pounds. The 12-inch screen is slightly smaller physically and in resolution than the current Surface Pro 4 and Surface Book though it boasts the same resolution of 2160x1440, usable aspect ratio and size as the Surface Pro 3. On such a small(ish) device, the pixel density, at 216 ppi, should be high enough for all but the most hawk-eyed of individuals. The screen they're using will have 85% of the NTSC color gamut.
The device is a true hybrid with a sturdy looking keyboard cover that doubles as a stand when you actually want to use it as a traditional laptop. Being their first computer, this might not initially tick all the boxes, but it seems to have learned from the mistakes of past hybrid makers. Included is a novel active pen and also has a laser pointer in one end to annoy co-workers.
The MateBook is powered by Intel's Core M processors from the current generation M3 through the M7. They're also offering configurations with 4GB or 8GB of RAM and storage that ranges from 128GB to 512GB. Curiously this is one of their more premium designs, something not seen in the US at all up until this point. It seems that the design win with a Google Nexus device has made their brand a household name.
They're using their tablet know-how to ensure that the minuscule device is actually able to stay cool. An 8-layer heat conductive structure should help it run cooler than the competition. Battery life is quoted as a cool 9 hours while doing typical light office work and up to 29 hours if you're using it as a music player.
The lowest end M3 model with 4GB fo RAM and a 128GB SSD will cost $699, while the top-end M7 with 8GB of RAM and a 512GB SSD will be $1599. It's looking, at first glance, to be quite the competitor. Let's just hope the keybaord dock is sufficiently rigid and works well on an actual lap.
Related Tags