New Quantum Break footage shows destructible environments, time powers
Remedy's cinematic shooter gets seven minutes of new footage, showing off time powers, mo-capture fidelity, and more.

Published Mon, Feb 15 2016 7:32 PM CST
|
Updated Tue, Nov 3 2020 12:01 PM CST
A new bit of footage for Quantum Break has dropped, showing seven minutes of carved up in-game action. The video footage isn't consecutive, so you won't get the first seven minutes of the game or anything like that. It's more of a highlight reel than anything, showing off specific points like impressive motion capture, cinematic fidelity, and time powers.
The footage reveals that Remedy's hotly anticipated shooter will have destructible environments, making firefights much more challenging. Luckily, players are able to manipulate the flow of time, so things tend to balance out. The game's protagonist--Jack Joyce--has a number of different unique abilities up his sleeves, including a freeze frame mode that stops time like the Twilight Zone's magic stopwatch, and Time Dodge, which zaps you out of harms way with a quick teleport.
There's also Time Vision, which highlights baddies like eagle mode in Assassin's Creed. This can be super useful when enemies are hiding behind cover, or when firefights get too hectic in frozen time--yes, you can have shootouts between time itself.Farther along in the game, however, Monarch baddies will use time powers with the aid of special suits to even things out.
If you can get past the holier-than-thou tone of the video, it actually shows off some neat features. We already know Quantum Break has awesome cutscenes featuring real actors like Shawn Ashton and Game of Thrones' Aiden Gillen as the principal protagonist, but the mo-cap facial animations also portray a real sense of personality and emotion in addition to looking good.
The game has some pretty impressive audio as well. Sound is affected by Jack's chronokinesis powers, so real-time sound effects like gunfire, explosions and bullet impacts will all be dampened when time is slowed. Music is affected by the nifty warping abilities, adding in an extra level of immersion to combat.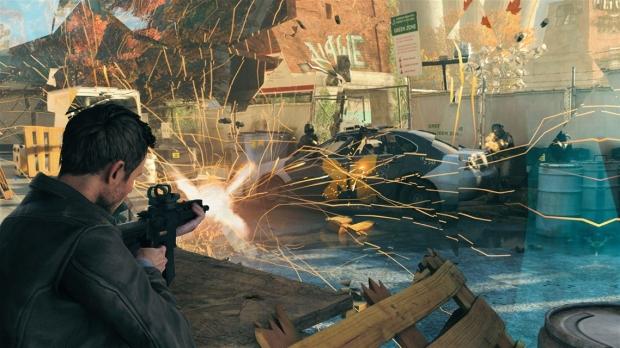 Remember that Quantum Break will be exclusive to Windows 10 PC's and can only be purchased on the Windows Store. If you pre-order a digital copy of the Xbox One version from the Windows Store or from an approved retailer, then you'll get a free copy of the PC port, as well as the full Alan Wake game package. The free PC code expires, however, so you have to use it before April 5th.
Microsoft has responded to its decision to break Xbox One exclusivity by saying it wants to "bring gamers together" , but we think that it's less about the community and more about a new unified business strategy.
Quantum Break launches on April 5th simultaneously for Xbox One and PC, and will leverage the power of DirectX 12 integration. As a result, Remedy recommends users have at least 8GB of RAM and a decent video card.
Related Tags