Qualcomm doesn't want to rest with its continued dominance of the mobile world, unveiling its new Snapdragon X16 modem. What makes the new Snapdragon X16 modem newsworthy? Well, it can push up to 1Gbps over LTE... which is just insane.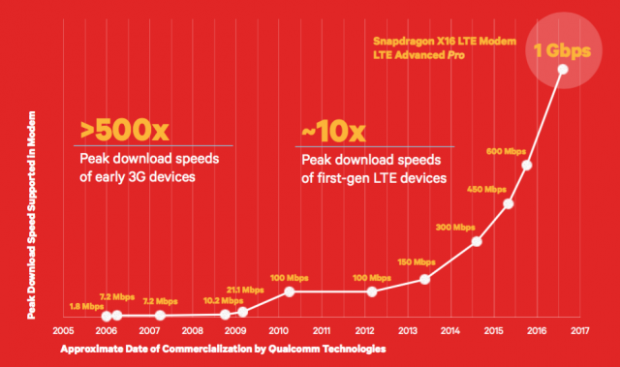 The new Snapdragon X16 modem, together with the WTR5975 transceiver is capable of up to 1Gbps over Category 16 LTE. Right now, we have a ceiling of 300Mbps to 450Mbps, with the upcoming Snapdragon 820 the only one capable of hitting 600Mbps. The Snapdragon X16 from Qualcomm will also support upload speeds of 150Mbps, too.
Qualcomm said in its press release: "The Snapdragon X16 LTE modem is designed to reach Gigabit Class LTE speeds using the same amount of spectrum as Category 9 LTE devices. By using carrier aggregation and 4x4 MIMO, the Snapdragon X16 LTE modem can receive 10 unique streams of data using only three 20 MHz carriers. Its support for 256-QAM boosts the peak throughput of each stream from ~75 Mbps to ~100 Mbps, with additional gains possible with modem data compression".
To start with, the Snapdragon X16 modem will be made available by Qualcomm as a separate chip, which companies will have to use alongside another SoC. The super quick new modem is built on the 14nm process, which will save power when compared to older modems.
As for the availability, Qualcomm's should see Snapdragon X16-powered smartphones later this year, or sometime in 2017.