Watch LotR's Helms Deep battle recreated in Fallout 4
It was only a matter of time! One of the most epic battles in cinematic history, Helms Deep, gets reenacted in Fallout 4.

Published Wed, Jan 27 2016 4:32 PM CST
|
Updated Tue, Nov 3 2020 12:01 PM CST
Fallout 4 battles never cease to amaze me, and this newest clip from Cosmic Contrarian is no exception: it's a 14-minute rendition of The Lord of the Rings' epic Helms Deep battle sequence set in Fallout 4.
At the behest of his fans, YouTuber has reenacted the Battle of Helms Deep in Fallout 4...and it's pretty epic.To ensure the battle maintained its authenticity, Cosmic Contrarian built his own version of Helms Deep with the game's settlement system, then proceeded to unleash a torrent of havoc and earth-quaking war on upon its walls.
The massive-scale battle sees tens of thousands of bloodthirsty Super Mutants up against a desperate division of Minutemen and Power-Armor-clad Brotherhood of Steel patriots. The horde of greenbacked Super Mutants eventually break into Helms Deep and bring head-smashing death to the humans, but the BoS paladins stand fast with their laser turrets at the ready. The carnage is so absolutely entertaining that it has a way of just mesmerizing viewers, just encapsulating you with fiery death-laden lasers.
We can only imagine how long this battle took to set up, but if you'd like to try your hand at making your own epic wide-scaled battles, it's actually not so hard.
TweakTown's official Fallout 4 Console Command guide will show you step-by-step how to create your very own huge battles, but you'll need to have a decent rig to handle all of the insanity.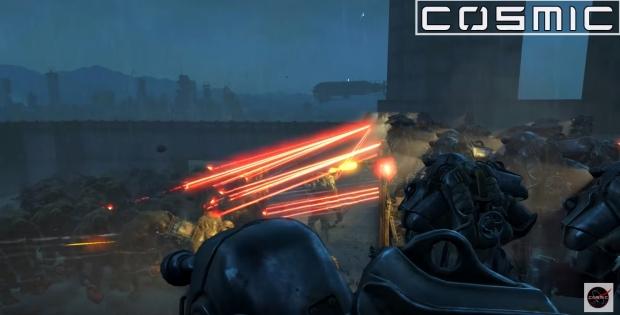 Related Tags