When the first trailer for The Division came out at E3 in 2014 it was a spectacular example of the future of graphics. But just like Watch Dogs before it, the graphical fidelity slowly declined in quality as more trailers and gameplay snippets were released.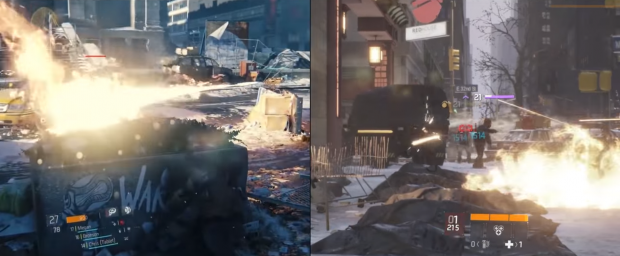 But now we're closer to release than ever, with the closed beta happening at the end of the month, which means a lot of hands-on time for various publications out there. Thankfully some astute gamers have taken the time to compare, as best as possible, the graphics between the original trailer and what's playable now.
The original showed us some very fantastic dynamic scenery with snow that melted over time and particle and weather effects that were just stunning. Models were full of polygons and textures were extremely sharp. Supposedly Ubisoft did downgrade the graphics slightly in order to make sure it ran at smoother framerates. But just how bad is the downgrade? Not terrible, actually.
Car damage isn't quite as pretty looking and the overall weather effects are dulled down. The car models, too, are slightly less visually appealing, but at least the general gameplay looks similar and the environmental effects, such as fire, look nearly as good.
But of course there is a real downgrade, which is a concern because that means the initial trailer wasn't representative, even though it was passed off as a gameplay trailer. There are legitimate reasons for downgrading for consoles, however, though we'd at least expect a 4K texture pack and a tremendous amount of graphical options to use the full potential of the PC. But until it's actually released, we won't know for sure. Look for our graphics analysis when it releases.