New Maingear AIO gaming desktop rocks liquid cooling, 18 core Xeon CPU
Maingear shows that AIO desktops can be powerful, but that muscle comes at a steep price.

Published Mon, Jan 4 2016 8:00 PM CST
|
Updated Tue, Nov 3 2020 12:02 PM CST
CES 2016 - Maingear has announced a new AIO desktop that packs quite a bit of enthusiast-grade muscle with liquid-cooling support, 4K display options, and workstation-class AMD FirePro and NVIDIA Quadro GPUs and Intel Xeon processors.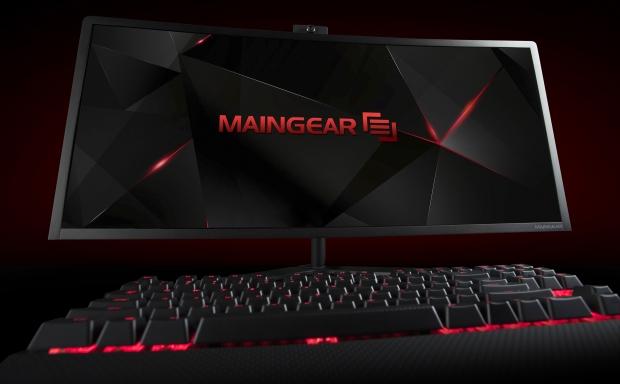 As all-in-one desktops are traditionally made for office work spaces, the builds are quite lacking when it comes to gaming performance. Maingear wants to reinvent AIO's with its new Alpha 34 gaming desktop, which can fit full-sized gaming and workstation video cards and CPU's for blistering performance.
The Alpha 34 sports a curved 34-inch 3480 x 1440p display, and comes in three different flavors: the H110/Z170 build for performance gamers, the X99 build for enthusiast gamers, and the titanic Professional grade that sports Intel Xeon CPU support and workstation graphics. The cheapest option--the Z170 tier-- starts at $1999, and adding top-tier GPU's will boost the price quite a bit. For example, a Alpha 34 Z170 with an AMD Radeon R9 390 and an Intel i7 6700K CPU and 16GB of DDR4 RAM will cost around $2,600.
Pushing the Professional grade Alpha 34 just a bit can cost over $8,000; that includes an NVIDIA Quadro K1200 4GB GDDR5 workstation GPU, a Intel Xeon E5-2699 v3 18 Core CPU, 16GB of HyperX Fury 2666 DDR4 RAM and closed-loop liquid cooling. Yikes. While it's great to see AIO systems push the bar, barebones PC's continue to be more affordable solutions.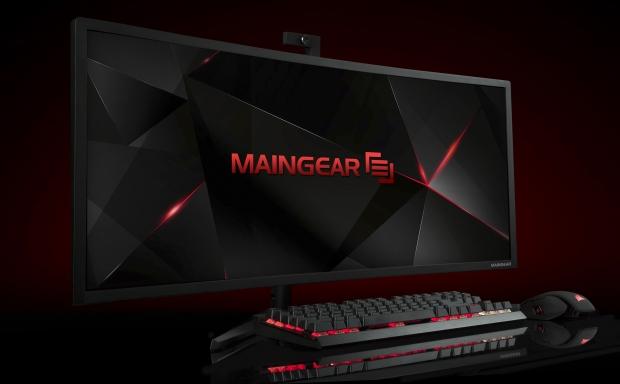 Alpha 34 H110/Z170 -- starting at $1999,
CPU: Up to Intel Core i7 6700K 4-core 4.0GHz/4.2GHz Turbo 8MB L3 Cache HD 530 w/ HyperThreading (8 Threads)
Motherboard : Z170 - Up to ASUS ROG MAXIMUS VIII IMPACT
GPU: NVIDIA - Up to a single GeForce Titan X 12GB GDDR5 w/ G-Sync Support
GPU: AMD - Up to a single Radeon R9 390X 8GB GDDDR5 w/ FreeSync Support
RAM: Up to 32GB (2x16GB) DDR4-2133
Alpha 34 X99 -- starting at $2,699
CPU: Up to Intel Core i7 5960X 8-core 3.0GHz/3.5GHz Turbo 20MB L3 Cache w/ HyperThreading (16 Threads)
Motherboard: ASROCK X99E-ITX Featuring USB 3.1 & Integrated Wireless 802.11 AC/Bluetooth v4.0
GPU: NVIDIA - Up to a single GeForce Titan X 12GB GDDR5 w/ G-Sync Support
GPU: AMD - Up to a single Radeon R9 390X 8GB GDDDR5 w/ FreeSync Support
RAM: Up to 32GB (2x16GB) DDR4-2666
Alpha 34 Pro -- starting at $2,799
CPU: Up to Intel Xeon E5-2699 v3 18 Core 2.30/3.6GHz Turbo 45MB Cache [36 Threads]
Motherboard: ASRock X99E-ITX- 4x Usb 3.0, 2x Usb 3.1 , Integrated Wireless AC
GPU: NVIDIA - Up to NVIDIA QUADRO M6000 12GB GDDR5
GPU: AMD - Up to AMD FirePro W9100 16GB GDDR5
RAM: Up to 16GB HyperX® FURY™ DDR4- 2666 (2x8GB) [Dual Channel]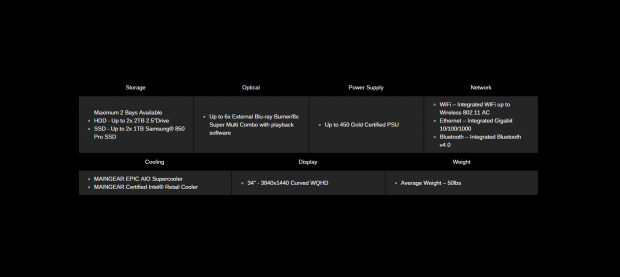 Related Tags