Samsung develops bendable battery strip for smartwatches
Samsung's new flexible batteries aim to dramatically improve smartwatch battery life while paving the way to new wearable tech.

Published Mon, Oct 26 2015 2:43 PM CDT
|
Updated Tue, Nov 3 2020 12:03 PM CST
As wearable tech continues to expand into our everyday lives, OEMs are charged with finding innovative new ways to optimize and streamline wearables--especially in the battery life department. With this spirit in mind, Samsung has just revolutionized the world of wearables with its new line flexible strip batteries.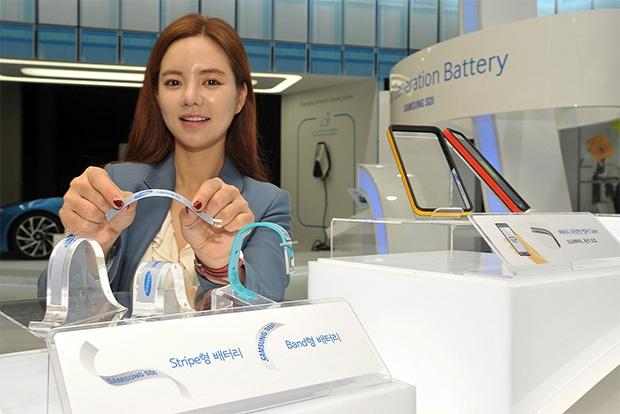 Samsung unveiled its new bendable battery duo, the Stripe and the Band, at this year's InterBattery 2015 showcase in Seoul, displaying a new generation of power solutions for two key wearable types. The South Korean tech giant called the new tech the "embodiment of the age of wearable batteries that is applicable to any curves of a human body."
Since the Stripe sports an ultra-slim 0.3mm battery strip with "innovative energy density", it could pave the way for nonexisting wearables like smart shirts, necklaces or hairbands. Thanks to its shape and size, the Stripe is extremely versatile and can mold and fit a huge assortment of form factors.
The Band, on the other hand, is specifically targeted to wrap around the insides of smartwatch bands. The Band will boost smartwatch battery life by over 50%, and Samsung notes that the tech will work with all smartwatches, not just its Gear S2 or Gear 2 devices. Although the battery is quite slender and formable, Samsung stress-testing proved it can be bent more than 50,000 times and still operate like new.
Battery strips aren't the only hardware that's being leveraged to improve wearable power. ARM's new Mali-470 GPU is specifically tailored to help improve energy efficiency in power-constrained devices by cutting operational power costs in half and optimizing power draw from displays. "ARM scrutinizes every milliwatt across the entire SoC to enable OEMs to optimize energy-efficiency and open up new opportunities," said ARM exec Mark Dickinson.
Samsung hasn't released any official word on which devices will be powered by the Stripe and Band, and it'll be interesting to see what other major players develop their own flexible battery solutions.
The demand for thin, bendable batteries is expected to skyrocket by 2025 accompanying massive growth from the wearables sector. Don't forget that LG wants to roll out foldable displays by 2017, and we might see these two technologies intersect in the near future.
Related Tags