Magic Leap aims to seamlessly blend real life with holograms
Magic Leap is a mysterious new form of AR that wants to project holographic images in our natural world.

Published Thu, Oct 22 2015 10:35 AM CDT
|
Updated Tue, Nov 3 2020 12:03 PM CST
According to its founders, Magic Leap is more than hologram-laden augmented reality tech: it's an idea, a kind of ethos that's founded upon a natural symbiosis between our physical, tangible reality and the ether that projects images to change our lives. In a sense, Magic Leap wants to unify the digital and real-world as one.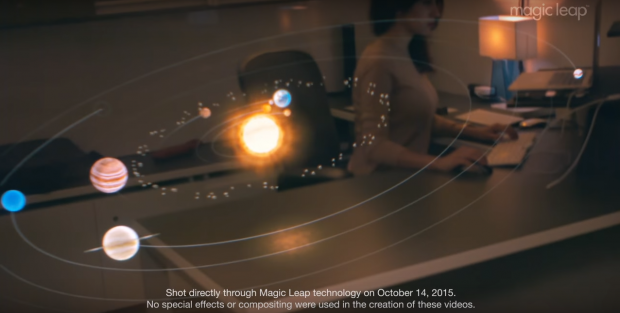 "Magic Leap is an idea," reads the official Magic Leap website. "An idea that computing should be shaped and forged to work for us: our life, our physiology, our connected relationships. That exploring human creativity is as great an adventure as exploring space. It's an idea based in the belief that people should not have to choose between technology or safety, technology or privacy, the virtual world or the real-world."
Since the company has raised half a billion dollars in funding, receiving major injections from titans like Google, it's fair to say that people believe in Magic Leap. But how does it work exactly? Even the recent Magic Leap tech demo showcased at the WSJD conference doesn't answer all the questions. Magic Leap is indeed based on the principles on augmented reality, but leverages the term "cinematic-reality technology" rather than AR. We know it has HoloLens-levels of potential, but the details are still somewhat vague.
Bringing the magic back into reality
Although the platform's exact dimensions aren't clear, we're given small clues as to how the tech works. Journalists like MIT Review's Rachel Metz have been invited to try the tech to write up tantalizing features.
"Essentially, [Magic Leap] has developed an itty-bitty projector that shines light into your eyes-light that blends in extremely well with the light you're receiving from the real-world," Metz said after trying a live demo test of Magic Leap tech.
Magic Leap CEO Rony Abovitz shed more light on the fundmental technics of the light-based legerdemain, touching upon how the company's biometric lightfield manipulates the visual spectrum to simulate images.
"In the real-world, in visual reality, there's this interaction with the light field. The world is a very complex dynamic light field... [it's] not really a hologram, it's even more complicated," Abovitz began. "It's like a moving hologram bouncing off of everything... Think of a hologram as freezing a light field, and in visual reality these light fields are moving and dynamic and alive ... our goal is to recreate that as completely as possible."
The company's website also reveals some tidbits about Magic Leap's light array that simulates the augmented reality holograms.
"With our founding principles our team dug deep into the physics of the visual world, and dug deep into the physics and processes of our visual and sensory perception. We created something new. We call it a Dynamic Digitized Lightfield Signal (you can call it a Digital Lightfield). It is biomimetic, meaning it respects how we function naturally as humans (we are humans after all, not machines).
"In time, we began adding a number of other technologies to our Digital Lightfield: hardware, software, sensors, core processors, and a few things that just need to remain a mystery. The result of this combination enabled our technology to deliver experiences that are so unique, so unexpected, so never-been-seen-before, they can only be described as magical."
Even with these clues, most of Magic Leap remains shrouded in mystery. There's no word of pricing or concrete release plans, but Abovitz claims it'll be available "soon" to consumers and there are projections of a release in 1-3 years. The tech is already in its production phase, and Abovitz says that the company is "gearing up to ship millions of things".
Related Tags