YouTube's 301+ view counter replaced with real-time stats
YouTube refreshes its 301+ view counter, providing users with real-time stats.

Published Thu, Aug 6 2015 1:35 AM CDT
|
Updated Tue, Nov 3 2020 12:04 PM CST
A few days ago YouTube updated its web-based video player, with the video sharing giant now removing the iconic 301+ view counter. It has been replaced with a new real-time view counter, which is much better for viewers, and YouTube content creators.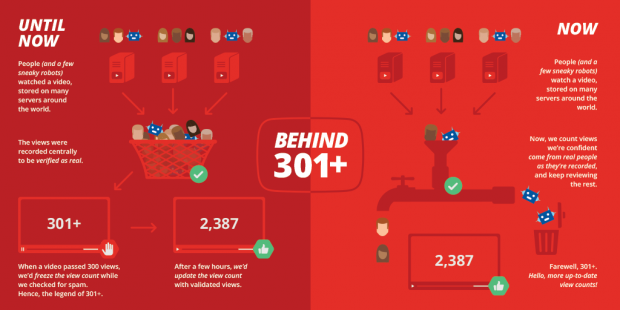 YouTube explained its 301+ view counter in an infographic, above, where it quickly became a placeholder to stop spammers from artificially increasing YouTube video views. Once a video hit 300 views, YouTube would halt the view counter at 301+ until it was able to confirm the views weren't spam bots, and then it would reveal the true view count.
But now, YouTube is confident that it can tell the difference between automated views and real-life people watching them. From now on, the view counter will drive up as more people watch the videos, with the iconic 301+ view counter now put to rest.
Related Tags