AMD's dual GPU version of the Radeon R9 Fury X will be out this year
AMD teases that their dual Radeon R9 Fury X card will be out this year.

Published Mon, Jun 22 2015 3:19 AM CDT
|
Updated Tue, Nov 3 2020 12:06 PM CST
Exclusive: I've just run back to my hotel room after being at the Australian launch of the new Radeon 300 and Fury line of video cards, where AMD teased their new Radeon R9 Fury X, R9 Nano, and the PCB of a dual-GPU based on two Fiji cores using HBM. When I pressed AMD about a release date for the dual-GPU solution, we were exclusively told that it would be "this year".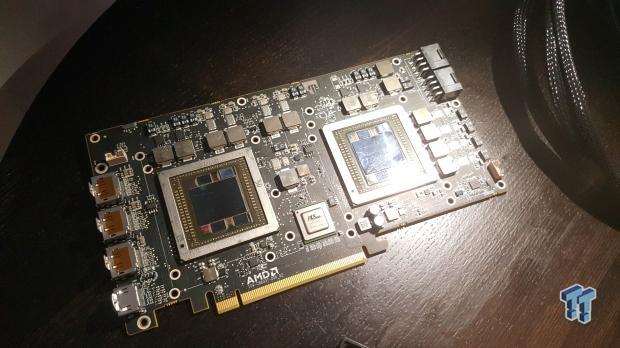 With only six months of the year left, we should see AMD until what I'm predicting will be the Radeon R9 Fury X2 in November. I also pressed them about the name, but they said they weren't confirming that at this time.
But it was the PCB of the dual-GPU that I wanted to run to first, so while the rest of the Australian media and partners walked to the rear of the room to check out the Fury X-powered PCs and Oculus Rift Crescent Bay prototype headsets, I rushed the stage to get my hands on the PCB. You can see the PCB packs two Fiji GPUs, both rocking High Bandwidth Memory which you can see quite clearly.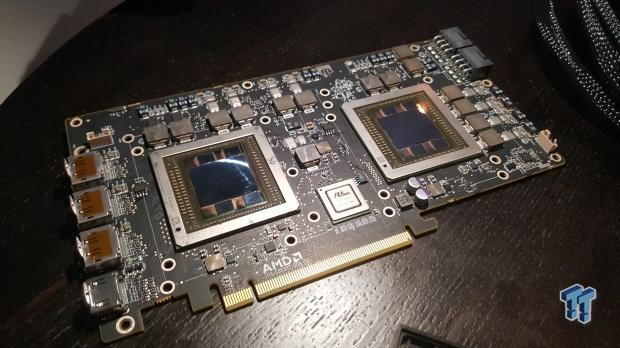 As you can see, there's a PLX chip to handle the communication between the two next generation GPUs.
Related Tags