NASA discovers a new galaxy which is as bright as 300 trillion suns
300 trillion suns? Is that all?

Published Sun, May 24 2015 8:15 PM CDT
|
Updated Tue, Nov 3 2020 12:07 PM CST
NASA has just found a new galaxy that is shining as brightly as, wait for it... 300 trillion suns. That's a lot of zeroes: 300,000,000,000,000 suns. One sun is bright, but 300 trillion? Ugh, I need some new sunglasses.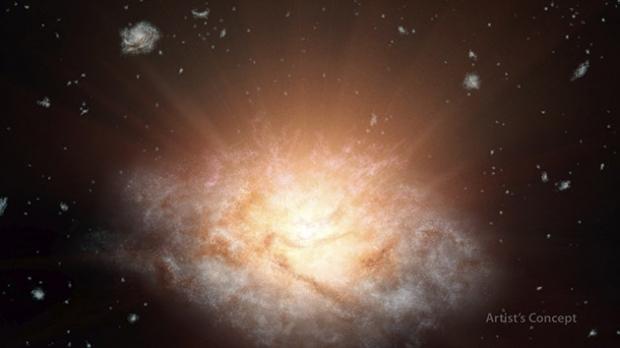 The discovery has been so large for NASA that they've had to create a new classification for it, and the 19 other galaxies they discovered. These new galaxies are extremely luminous infrared galaxies, or ELIRGs for short. NASA has said that the new ELIRGs are "the most luminous galaxy found to date". NASA scientists spotted the ELIRGs with their Wide-field Infrared Survey Explorer (WISE) space telescope.
The ELIRGs that NASA found are located 12.5 billion light years away, which is why it's so damn bright. NASA JPL scientist Chao-Wei Tsai says that it "may be from the main growth spurt of the galaxy's black hole".
But why is this new black hole so big? According to the scientists' paper, we might just be seeing a period in its life, especially since WISE spotted the ELIRG 12.5 billion light years away. It might not be spinning as fast as other black holes, but one of the paper's co-authors, Andrew Blain, describes it as "winning a hot-dog-eating contest lasting hundreds of millions of years".
Related Tags