More minimalist PC design - K-Limes' CM690III
K-limes modding shows us how to make a beautiful minimalist PC design with their Cooler Master CM690III project.
Published Jan 30, 2015 3:23 AM CST
|
Updated Tue, Nov 3 2020 12:10 PM CST
1 minute & 6 seconds read time
Minimalist PC design is becoming extremely popular in modding circles and here's an awesome example - K-limes' CoolerMaster CM690III Modded Edition.
Featuring an EK-dominated watercooling lineup, this system is powered by an Intel i7 4770k, a MSI GTX 760 Twin Frozr and tied together by MSI's Z87-GD65 GAMING motherboard.
What helps make this build look so minimal? Alongside almost no cables showing what-so-ever, the watercooling loop is kept as short as possible and all the 'backbone' components are hidden - like the power supply. This means that only the fancy components are put on display, allowing for the design to look sleek and stylish. Planet MODs has further described minimalist design as "choosing high-quality and beautiful material, then let it stand on its own".
The full components list is as follows:
Modder: K-limes Modding
CPU: INTEL Core i7 4770k
Mobo: MSI Z87-GD65 GAMING
VGA: MSI GTX 760 Twin Frozr VI GAMING
Case: Cooler Master CM690III
PSU: Cooler Master V Series 850W
RAM: GSkill Extreme 3 Series Ripjaws Z - 4 x 2Go
SSD: SAMSUNG 840 Pro - 128Go
With the watercooling additions of:
Waterblock Processor : EK Supremacy Nickel + Acetal
Waterblock Graphic Card : EK VGA Supremacy Nickel + Acetal
Pump : DDC 3.25 - 18W / 12V
Top : EK DDC X-TOP Acetal
Reservoir : EK RES X3 250ml
Radiator N° 1 : EK CoolStream RAD XT 120
Radiator N° 2 : EK CoolStream RAD XT 240
Fitting N° 1 : Primochill Compression Rigid Ghost Blanc
Fitting N° 2 : EK 10/16 compression fitting
Tubing : Masterkleer 10/16 White
Acrylic tubing : Primochill Green UV 10/13
Liquid Cooling : EK GreenUV
Fans : Cooler Master Jet Flo 120mm x 6
Rhéobus : NZXT Sentry Mesh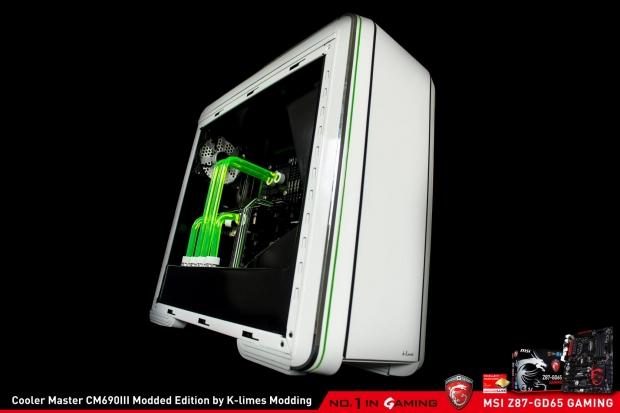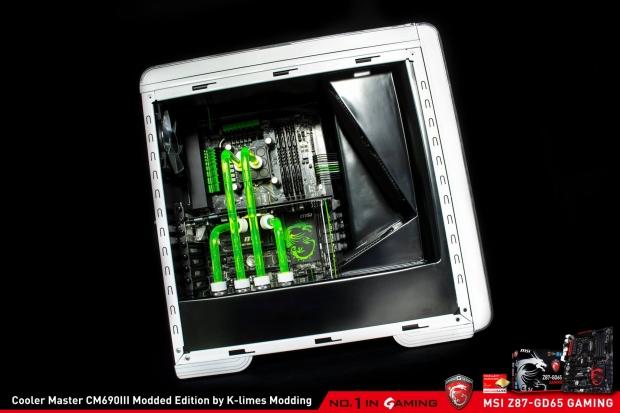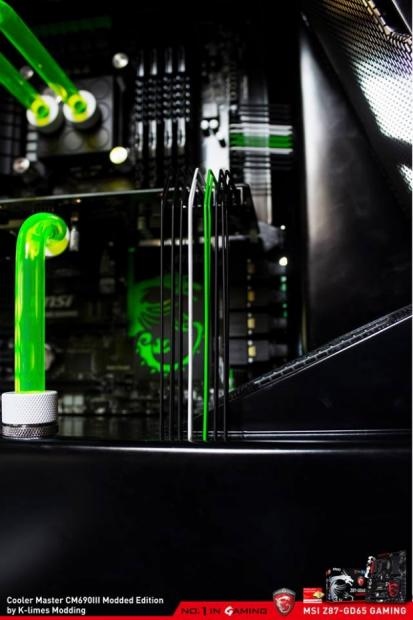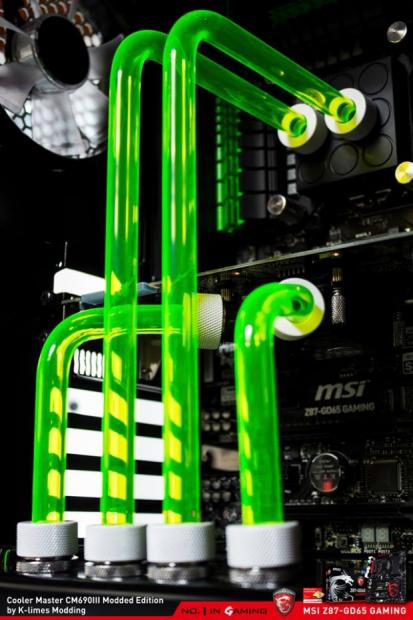 Related Tags