NVIDIA GeForce GTX Titan II vs AMD Radeon R9 390X in leaked benchmarks
The battles of the titans are about to begin, with leaked benchmarks of the purported GeForce GTX Titan II and the Radeon R9 390X.

Published Tue, Dec 16 2014 9:52 PM CST
|
Updated Tue, Nov 3 2020 12:12 PM CST
According to the latest rumors, the upcoming NVIDIA GeForce GTX Titan II has been benchmarked against the Radeon R9 380X and R9 390X. These are just rumors right now, as all three of these cards have not been announced yet. Even the name Titan II could change to Titan II, or Titan Extreme. AMD on the other hand could change their cards to 399X, or 400X or anything out of the norm from what to expect.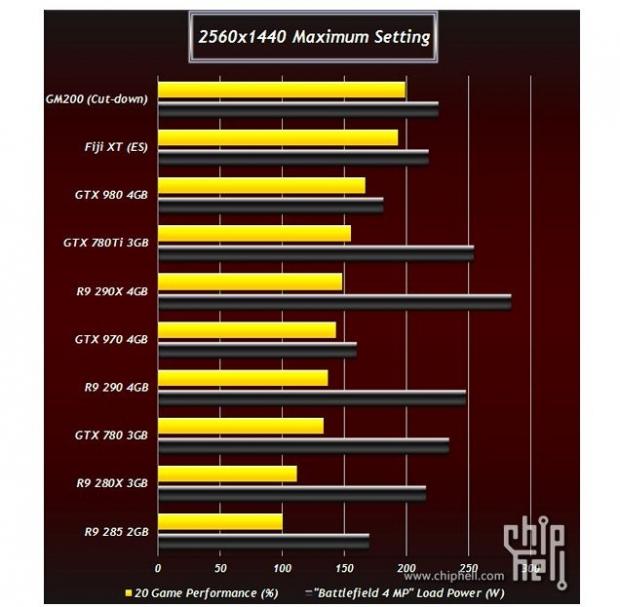 The details on the cards from the poster on Chiphell state that the Fiji XT and Bermuda XT (380X and 390X respectively), will be manufactured on Globalfoundries' 20nm process. The Titan II on the other hand will arrive as the GM200, which will supposedly come in two flavors: a cut down version with 21 MM units and a total of 2688 CUDA cores. A "full fat" version will arrive at a later date with an increased amount of SMMs and CUDA cores.
When it comes to performance, the GM200-powered GPU from NVIDIA will be 34% faster than the GeForce GTX 980. On the AMD side of things, the R9 390X will be a huge 65% faster than the R9 290X, which will feature liquid cooling that was rumored all those months ago. Performance wise, the next-gen GPUs are packing a massive punch.
Power consumption numbers, while rumored and most likely very early, have the GM200 (or Titan II) consuming 225W of power. The R9 380X uses slightly less than that, with both GPUs consuming more power than the GTX 980, even with the help of the 20nm process. The R9 290X 4GB still leads, with closer to 300W of power usage.
Related Tags