Marvell releases world's first DRAM-less NVMe SSD controller
Marvell wraps NVMe and support for 3D and TLC NAND into one awesome SSD controller burrito..did I mention it doesn't use DRAM?
Published Mon, Dec 8 2014 11:29 AM CST
|
Updated Tue, Nov 3 2020 12:12 PM CST
The keys to the future of SSDs revolve around the NVMe interface, TLC NAND, 3D NAND, and low power consumption. The 88NV1140 supports both NVMe 1.1b and AHCI through a x1 PCIe 3.0 interface. The controller supports TLC NAND and 3D NAND, along with other types of NAND. This new controller is targeted for the mobile market, such as Chromebooks, laptops, and 2-in-1 devices.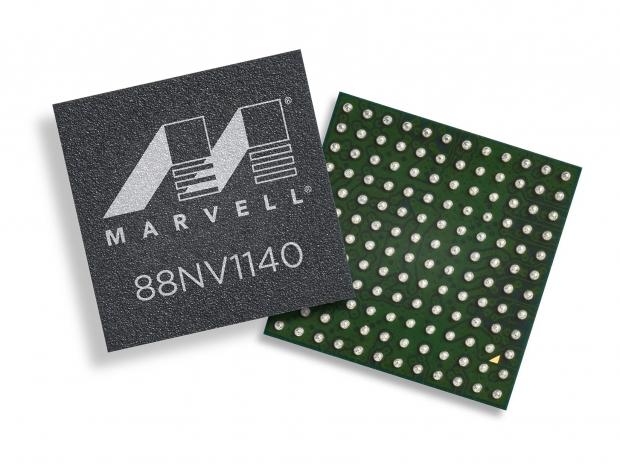 Marvell turns to NVMe 1.1b and the first DRAM-less NVMe controller design to deliver a lower power threshold. DRAM-less designs feature lower power draw and are typically more resilient during power loss events. Tacking on support for the newer NVMe revision 1.1b also leverages improvements in low power state management. Marvell also announced the DRAM-less 88NV1120, which supports the SATA interface in PC systems and leverages DevSlp functionality.
Both controllers are built on a 28nm process and come in a 8x8mm package, allowing for ultra-dense applications such as M.2 2230 designs (30 mm in length). Both controllers use Marvell's NANDEdge LDPC error correction to boost longevity, and it supports 15/16nm TLC and 3D NAND. The controllers have already passed strenuous in-house validation and third-party operating system and platform compatibility testing. The new controllers support development of NVMe BGA or SATA BGA SSDs running on embedded SRAM through multiple-chip-package integration with NAND.
NVMe hasn't quite trickled down to the consumer level, but is already integrated into several enterprise solutions. Head over to our IT/Datacenter section for a look at the latest NVMe products.
Related Tags