NVIDIA launches its Tesla K80 dual GPU card, with 24GB of RAM
NVIDIA launches its new dual GPU compute card, the Tesla K80, which sports an insane 24GB of GDDR5 RAM.

Published Mon, Nov 17 2014 6:16 PM CST
|
Updated Tue, Nov 3 2020 12:13 PM CST
NVIDIA has launched its new Tesla K80 compute card at the Supercomputing 2014 (SC14) conference in New Orleans, which is a dual GPU design, cramming in an insane amount of compute power into a single card.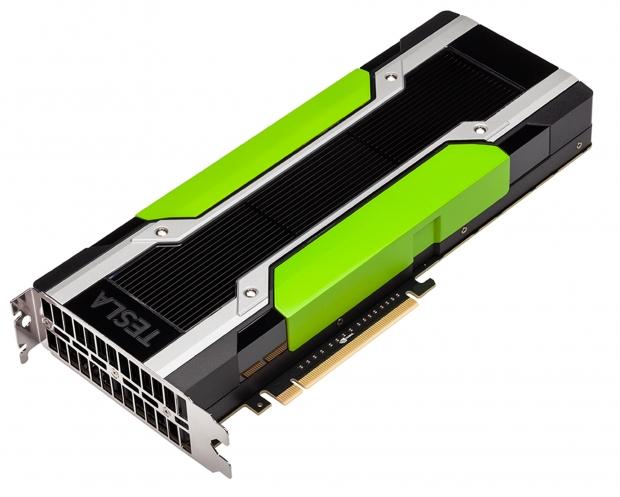 One of our friends, Anshel Sag, over at Bright Side of News reported the news, explaining that "Logically, you would think that the K80 would naturally be two K40's smacked together into a single card, but that's not accurate. In order to build the K80, NVIDIA actually went with GPUs with similar shader core counts as the Tesla K20, but what's most important is that they actually did double the onboard memory of the K80 from the K40 to 24 GB of GDDR5". 24GB. OF. RAM.
NVIDIA is using 12GB of GDDR5 per GPU, for a total of 24GB of RAM. We have 4992 shader cores, with the company using two GK210 GPUs, instead of the GK110B's found on the Tesla K40. NVIDIA is claiming that the new Tesla K80 is capable of 8.74 teraflops single-precisiion, and 2.91 teraflops double-precision. These numbers are over double that of the K40.
Each of the GK210 GPUs inside of the Tesla K80 feature 13 SMs clocked at 562MHz, 875MHz Boost clocks - something of a surprise, as the GPU boosting features are a first for the Tesla with the K80. The memory bandwidth is very nice on the K80, with 480GB/sec of memory bandwidth available, a big, big boost on the consumer GeForce GTX 980 GPU.
NVIDIA is gunning for AMD with the Tesla K80, competing directly against AMD's FirePro W9100 which has 2816 Stream Processors, 16GB of GDDR5 RAM and 320GB/sec of memory bandwidth. We have peak performance of 5.24 teraflops single-precision floating point performance, and 2.62 teraflops of dual-precision performance. The compute wars have now begun, again, folks.
Related Tags