OWC launches PS4 upgrade kit that quadruples storage up to 2TB
OWC will boost your capacity and performance with a new HDD replacement kit for the PS4.
Published Mon, Nov 10 2014 3:16 PM CST
|
Updated Tue, Nov 3 2020 12:13 PM CST
Other World Computing (OWC) has announced a new PlayStation 4 upgrade kit. The current crop of new game consoles are becoming more focused on becoming the hub of the home entertainment system. This leads to a need for more storage, but unfortunately the stock storage capacity of gaming consoles hasn't increased enough. Swapping out the internal drive on the PS4 usually voids your warranty(**correction - Users can swap drives with any drive without voiding warranty**), but OWC has announced a fix for that problem.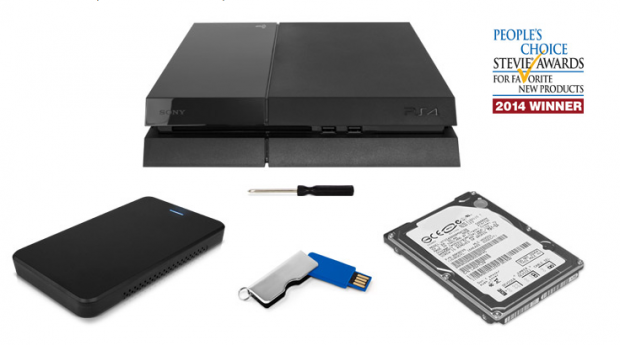 OWC's new Hard Drive Upgrade Kit allows users to boost their capacity up to 2TB, and still retain their warranty. The kit claims to boost performance and features a 5,400 RPM drive in the 2.5" form factor. As an added bonus, OWC includes an external enclosure that allows users to convert the old internal drive into external storage. The kit includes everything you need to backup the data on the existing drive, then transfer it over to the new one. A set of fairly simple instructions is included, and is also available online.
The kit can be purchased with 1, 1.5, or 2TB HGST/Toshiba/Seagate HDD's (different capacity points feature different drives). Interestingly enough, the 1TB will provide the most performance, as it is actually an SSHD. SSHD's merge flash goodness with spinning platters to provide much faster data for commonly loaded data, such as the PS4 OS. Tyler recently took a look at Toshiba's SSHD, and you can get a good idea of the performance boost by reading his Toshiba 1TB SSHD (MQ01ABD100H) Review. The Toshiba drive will definitely boost the speed and load times of commonly accessed games, and we would like to see OWC offer SSHD's for higher capacities as well.
The kit also includes an 8GB dual USB flash drive, a screwdriver, a USB 3.0 cable, and an express installation drive. The warranty on the kit is good for one year, and OWC promises a 48 hour turnaround time. The 1TB kit is $114.00, 1.5TB costs $137.50, and a 2TB drive will set you back $149.00. With such a low price difference, only $12, between the 1.5 and 2TB versions most will probably opt for the 2TB drive.
Related Tags