Lenovo unveils the Intel Core M-powered Yoga 3 Pro laptop
Lenovo announces the successor to the Yoga 2 Pro, with the Yoga 3 Pro powered by Intel's new Core M processor.

Published Thu, Oct 9 2014 7:53 PM CDT
|
Updated Tue, Nov 3 2020 12:14 PM CST
Lenovo has the best Windows notebook on the market, where I totally fell in love with, and still gloss over, the Yoga 2 Pro. The company has just unveiled its successor, the Yoga 3 Pro, which improves on the small amount of things the Y2P had problems with.
The Yoga 3 Pro is 17% thinner, and 15% lighter than the Y2P, with Lenovo claiming that the change in results has it "weighing less than a bottle of water". We still have the 13.3-inch 3200x1800 QHD+ display, which was super crisp on the Y2P. Lenovo has spent time improving the already great hinge design, with the Y3P featuring a "watchband" hinge that Lenovo claims is "hand-assembled from more than 800 individual pieces of steel and aluminum".
Inside, we have Intel's Broadwell-based Core M-70 processor running the show, backed up with up to 8GB of RAM (still no 16GB, Lenovo?), and up to 512GB of SSD. The company has fixed the Wi-Fi issue on the Y3P, baking in a new 5GHz 802.11ac chip into the Yoga 3 Pro. Lenovo has also improved the software inside of the Y3P, with something it calls "Harmony" that automatically adjusts settings to optimize whatever software you're using. If you were to be reading an e-book for example, Lenovo's Harmony software will "change the brightness and color temperature according to the environment lighting". If you are watching a movie, Harmony will automatically adjust the audio settings to give you a better sense of immersion.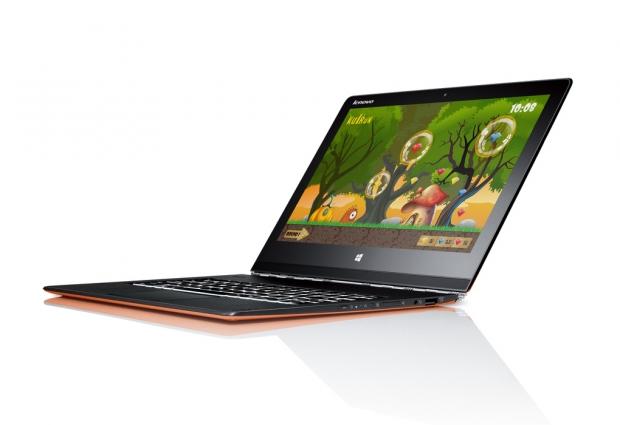 All of this arrives in a package that starts at $1,349 directly from Lenovo's website, or from Best Buy at the end of the month. The new Yoga 3 Pro will be available in three colors: silver, orange, and gold. At this price, you're getting a machine that destroys the Apple MacBook Pro, even with its Retina display, it's still not a touchscreen. Something else surprising: Lenovo was first out of the gate with the Broadwell-based Core M processor, and not Apple... which is, well, very interesting to say the least.
Related Tags