Lenovo Yoga 2 Pro Ultrabook Review
Lenovo has crafted one of the best Ultrabooks on the market, if not ever, with its Yoga 2 Pro; it's an incredible machine at an amazing price.

Published
11 minute read time
Introduction, Specifications & The Design
When I saw the first-generation Yoga Pro, I was impressed but wasn't sold on it right away. It had a 1600x900 display and no backlit keyboard, which were two things I really needed before slapping down $1000+ on a new Ultrabook. Well, when Lenovo unveiled its Yoga 2 Pro, I was sold...instantly!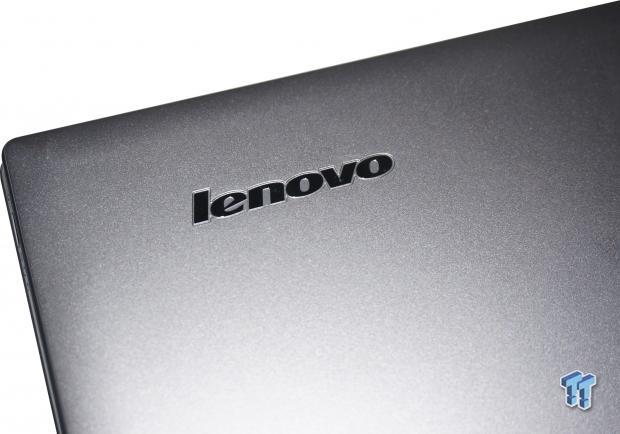 In a world where notebooks are dominated by Apple's MacBook Pro, the Ultrabook market doesn't get much love. There are so many options to choose from, but no stand out winners. Samsung has some great Ultrabooks, but so do Dell, Acer, and ASUS. Lenovo, in my opinion, has the Ultrabook of all Ultrabooks, so you're going to want to read on to find out why.
Starting at $820, it's an impressive deal; the model I purchased for myself was the Core i7-powered, 256GB SSD model that is priced at around $1200. For $1200, you're getting a serious piece of hardware. Let's get into the specifications now, something that the Yoga 2 Pro kicks some serious ass in.
First off, we have the beautiful 13.3-inch 3200x1800 touch-capable display, the Haswell-based Core i7-4500U processor, 8GB of DDR3L 1600MHz RAM, a 256GB SSD, Windows 8.1 64-bit, and Wi-Fi 802.11 b/g/n. All of this weighs in at just 3.1 pounds (or 1.4kg) and has dimensions of 13x8.7x0.6 inches--nice and thin and, most of all, light.
The base model starts with a Core i3 processor, but it can be optioned up to the Core i7 processor that we have here today. The basic Y2P starts off with 4GB of RAM, but I would highly suggest upgrading to the 8GB of RAM model, with the same advice being in play for the SSD side of things. Lenovo bakes in 128GB of SSD storage by default, but I would suggest opting for the 256GB model. For the power users, there is a 512GB model, too.
One thing you'll have to take note of is that the RAM is soldered onto the mainboard of the Yoga 2 Pro itself, so there is no upgradeable RAM option here; you'll have to opt for the 8GB model, something I really think you should do if you purchase the Y2P.
I found the mix of the Core i7 processor, 8GB of RAM, and 256GB of SSD to be a powerful combination of specifications, especially when you consider the 13.3-inch 3200x1800 display that you have right in front of you.

When it comes to looking around the Yoga 2 Pro, we have a few things to talk about. On the left side of the Ultrabook, we have the power socket, USB 2.0 port, micro HDMI port (which is 4K-capable, something we talk about later in the review), and SD card reader.

On the right side of the Y2P, we have (from left to right) the power/charging light, power button, a button for rotation lock of the display, volume up/down buttons, a 3.5mm headphone/mic jack, and a USB 3.0 port, something I wish there were more of.
The Design - Beautiful & Light, Powerful & Reserved
Lenovo has baked an absolutely beautiful design onto the Yoga 2 Pro, which feels just as thin as a MacBook Air (at its biggest point) and nearly as light. The Yoga 2 Pro feels great in the hand, where it feels comfortable to tote around in just one hand, something I do quite often with the Y2P thanks to its versatility.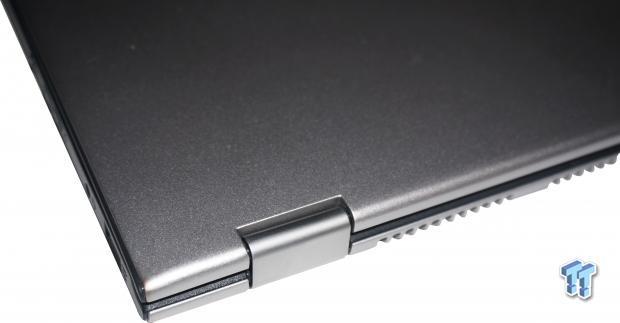 Credit has to go to Lenovo for its work on the hinges, something that makes all of its transforming into its various modes (which we're going to go into now) possible.
Lenovo's party trick with the Yoga 2 Pro is just how versatile it is: if you push the touchscreen back, it will fold not only dead straight with the keyboard, but it will continue to bend back until it goes into "Tablet Mode."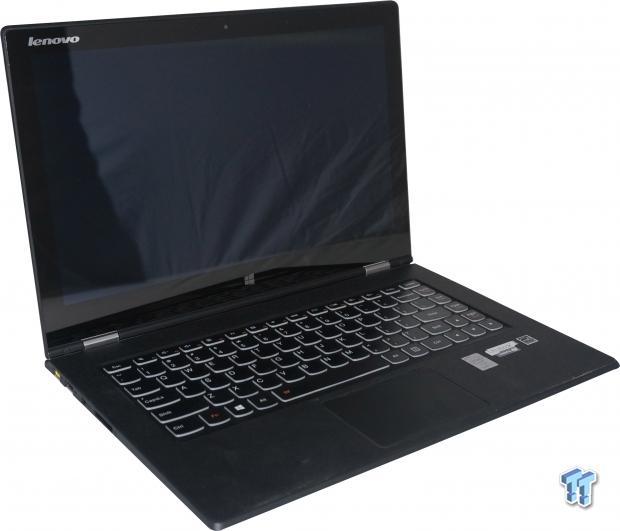 The Yoga 2 Pro has four different "modes" that it can transform into, with the first being "Tablet Mode." I use my Y2P in Tablet Mode probably 75-80 percent of the time, but the other modes, Tent Mode and Stand Mode, aren't completely useless.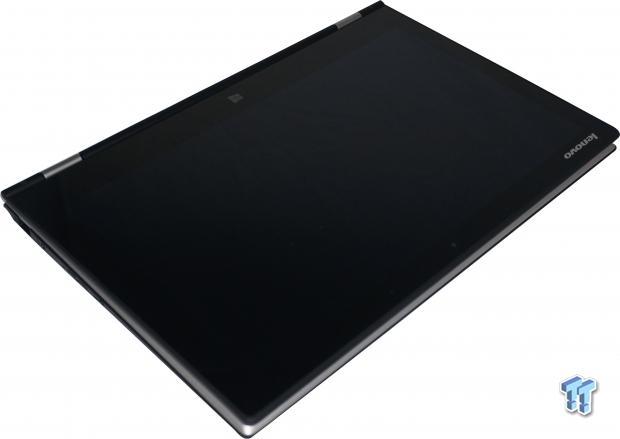 Tablet Mode is where you bend the screen all the way back, which disables the keyboard and turns the Yoga 2 Pro into a 13.3-inch QHD tablet. This is something I actually used with my 3-year-old daughter as she loves playing some basic games in this mode.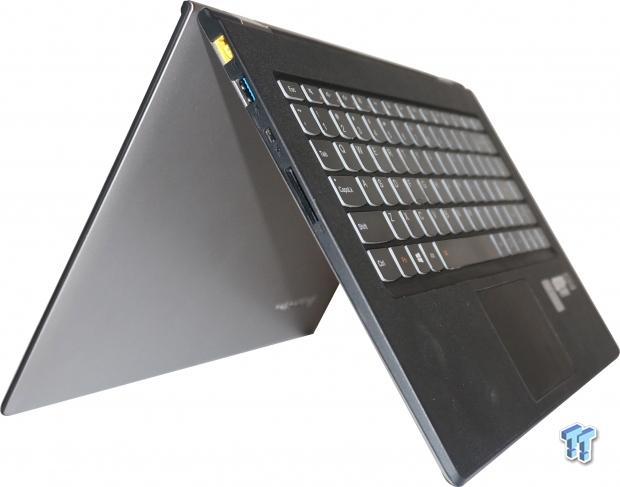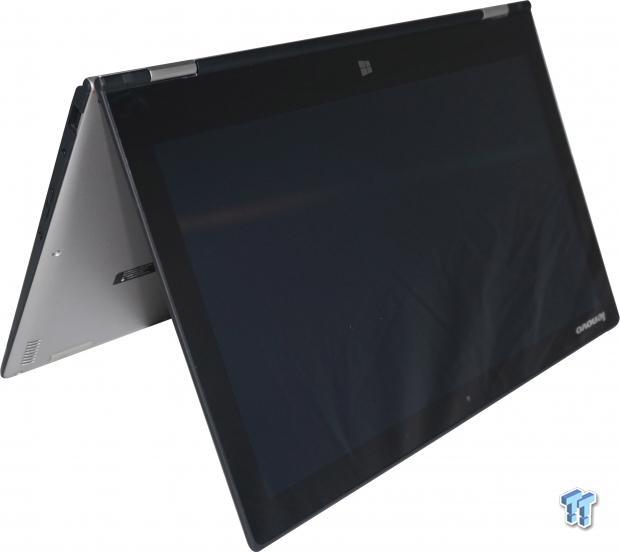 Tent Mode is something I actually used often when travelling. When I was relaxing back in my hotel room, I could pop the Yoga 2 Pro into Tent Mode and watch a movie or a few TV episodes. Tent Mode was probably my second most-used mode.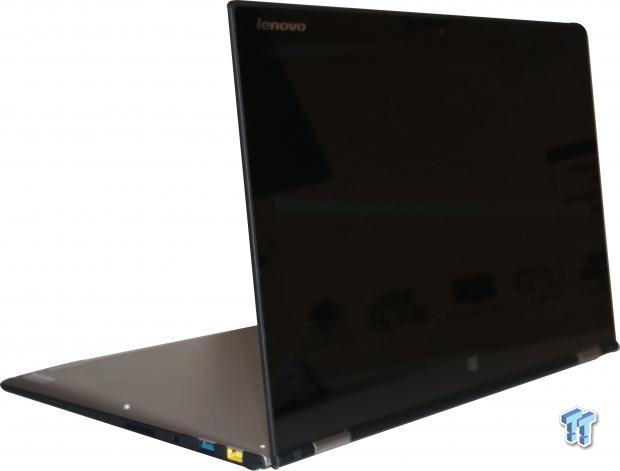 Finally, we have Stand Mode, which is something I didn't find myself using, but it isn't a useless feature at all. Stand Mode is good if you're just consuming content, watching a YouTube video while you're making dinner--or watching a YouTube video on how to actually make dinner--using the touchscreen capabilities to their fullest.
The four "modes" that Lenovo have baked into the Y2P enable themselves automatically when the Ultrabook detects it physically. Bend the screen back into tablet use, and "Tablet Mode" will be enabled, with a quick popup letting you know it has been enabled.
PRICING: You can find the Lenovo Yoga 2 Pro for sale below. The prices listed are valid at the time of writing but can change at any time. Click the link to see the very latest pricing for the best deal.
United States: The Lenovo Yoga 2 Pro retails for $1,202.73 at Amazon.
Canada: The Lenovo Yoga 2 Pro retails for CDN$1,999.00 at Amazon Canada.
The Keyboard, Screen and Performance
The Keyboard
The keyboard, to any Ultrabook or Notebook user, is one of the most important things. I type incredibly fast (in the 120-130 words per minute range or more), so this was one of the key points for me. I know that Lenovo has a history of great keyboards, so I took a punt but smashed a home run. I use my Yoga 2 Pro for absolutely everything now.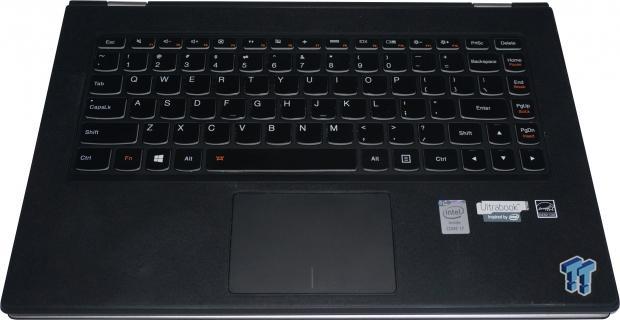 I'm writing this review on it right now, and have smashed out 1100+ words so far without many errors; it feels like my hands were made for this keyboard. It took around a week or so to adjust from a mechanical gaming keyboard to the soft touch on the Y2P, but once you get used to it, it's gold.
The backlit keys are excellent to look at in the dark, which comes in handy when there's not much light and you need to use a function button or something that you're not used to pressing all the time. Overall, I'm very impressed with the keyboard, and I think you will be, too.
The Screen Is Gorgeous. Oh! and it's Touch-Capable!
Another thing that sold me on the Yoga 2 Pro was the beautiful 3200x1800 display. Being touch-capable is just the cherry on top. I would've purchased the Yoga 2 Pro if the display wasn't touch-capable, but once I started using the touch capabilities, I actually became a fan of it.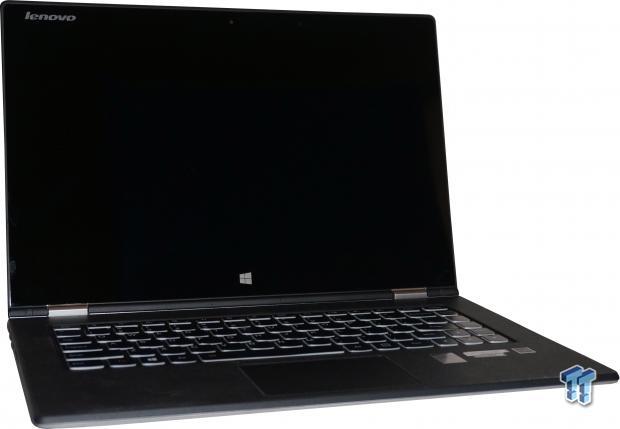 I constantly have two Chrome windows open, with countless tabs open, so I need the desktop real estate. But just how small is the text at 3200x1800 on a 13.3-inch screen? Well, that is up to you. I found it quite ridiculous and started using 150 percent scaling within Windows 8.1. This provides a beautifully perfect look for text within everything I use.
I heard about the yellow on the screen being more of a mustard, which I have to admit feels and looks true. I have my Y2P sitting next to my Seiki Digital 39-inch 4K TV and I can instantly tell the difference between the colors. But, you know what, in an otherwise perfect machine, I can deal with my yellows being "off."
If you were a professional photographer or were using the Yoga 2 Pro for something like that, or anything near it--video work, photo work, anything--then this is something you need to see before you buy.
When using it in Tablet Mode, the screen is uber responsive, and just as beautiful. I play games on the Y2P with my daughter all the time, and she has no problems touching the screen and having fun, but these are just basic games.
Performance
I'm not going to go into benchmarks on the Yoga 2 Pro, because I don't have anything else to go off of as I don't review notebooks for TweakTown. But from a general standpoint--everyday use--the Yoga 2 Pro has you covered. As I said in my introduction, I would personally recommend opting for the Core i7/8GB RAM/256GB SSD model as it is priced incredibly well.
I used the title "Powerful & Reserved" on the first page, which was kind of a tease into the Performance part of the review. Because I'm not going to do benchmarks, I can only talk about the general performance, which in my opinion means more than benchmark charts versing the Yoga 2 Pro against other Ultrabooks, but it shouldn't be compared. This is something I'll go into soon.
For now, battery life. I was able to get around 5-6 hours of watching movies and TV episodes before the battery ran dry. Apple claims so much more in their marketing for the MacBook Air, but the Y2P wouldn't be competing against the MBA; it would be competing against the MacBook Pro, while also being as thin and even more versatile and powerful than the MBA.
Six hours is more than enough for general use on the plane or train, or if you disconnect it from power and want to do some work on the lounge or consume content through many other ways (Flipboard, Feedly, e-mail, or whatever) in Tablet Mode. Battery life, for me at least, is a winner with the Y2P. Sure, I wish I could have 10 hours+ from it, but Lenovo could maybe squeeze something out of the Yoga 3 Pro if it arrives in the future.
8GB of RAM is Sometimes Not Enough
I found that 8GB of RAM wasn't enough for my personal usage as I usually have at least 10-12 tabs open in Chrome. I'm what most would consider a "power user"--at least to the general consumer--but power users would use more of the physical grunt from the Core i7 processor side of things.
Chrome tabs use copious amounts of RAM, depending on what site or service you're using, but I have Gmail, Facebook, Feedly, and two tabs of the backend of TweakTown open at all times, no matter what. There goes 1GB+ of RAM just there. Then the various websites I'm visiting or reading, and then we have sites like YouTube. This isn't anything wrong with the Y2P, but it's my personal experience, something I'm typing while you're reading.
Don't let this sway your decision, but if I could have Lenovo option a 16GB model of the next-gen Yoga 3 Pro, then I would. I would not hesitate to have more RAM in the machine, but I've found the processor and storage side of things absolutely fine.
More Performance Than You Can Poke a Stick At
I think the highest I've ever had my processor load at was at around 60-70 percent when I was again using a bunch of Chrome tabs. I do some light image processing, usually batch image shrinking, which doesn't use much processing power at all.
I did play some FlatOut 2 with a friend of mine, with the game cranked at 1920x1080 with all the graphical bells and whistles enabled, and I had no issues at all. Not that this is an indication of performance, but more of a "this is about all I play on my Y2P." I have a few seriously powerful gaming PCs that I use for my gaming. I don't need to, or want to use my Ultrabook for that.
4K Output From microHDMI is Super Useful
Something I do that most won't is output using the micro HDMI port on the Y2P. I thought that this port would be limited to just Full HD (1920x1080), but was pleasantly surprised when I hooked up my Seiki Digital 39-inch 4K TV at 3840x2160, something that the microHDMI port on the Yoga 2 Pro handles without a problem.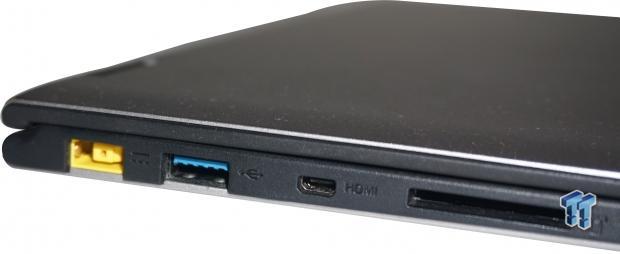 It is quite the sight to see when you have a 39-inch TV to the left running 3840x2160, while the 13.3-inch screen on the Yoga 2 Pro is pumping away at 3200x1800. This gives me so many pixels to play with, and it's awesome. The Yoga 2 Pro is one of the most versatile devices I've ever used.
What's Hot, What's Not & Final Thoughts
What's Hot
So Many Modes: With four different ways to use your Yoga 2 Pro, it's not just a standard Ultrabook; it becomes your tablet, your media consumption device, and much more. I used my Y2P as a workhorse for most of its life, but I found myself using it in different ways. It just takes a while to get used to a device being capable of being bent into a tablet or into Tent Mode.
Once you get a handle on this, it changes the way you use the Yoga 2 Pro to the point where I don't think I could use a traditional Ultrabook or Notebook in the near future. I could never go back to an Apple MacBook Pro/Air, that's for sure.
Portability Doesn't Sacrifice Specs: I have an Apple MacBook Air from 2010, and this Yoga 2 Pro is not that much thicker at its thickest point, nor is it that much heavier. The Yoga 2 Pro has infinite more uses, and much more power, too. Even with a thin and light Ultrabook, we still have a 3200x1800 display that is touch-capable, and so much more.
It Looks Great: Design is something that is important to an Ultrabook, something that Apple gets most of the credit for. Lenovo has done some great things with the Yoga 2 Pro, and I feel it has pulled the bar on design that much higher, all while making the Y2P look like a beautiful piece of machinery.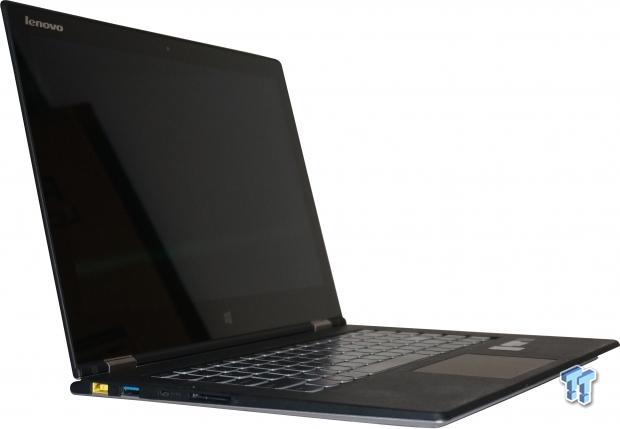 QHD Display: The 13.3-inch 3200x1800 display is absolutely gorgeous, stunning, beautiful. Being touch-capable is just another benefit, and in tablet mode, Full HD video looks sharp and colorful. Everything is a joy to use on the Yoga 2 Pro.
It's Priced Incredibly Well: Starting at around $800, the Yoga 2 Pro is priced competitively well, beating out the MacBook Air even at the lowest end. At the high-end, we have the $1200 price point that kills the MBA, and even keeps up with the MBP, something that should have most consumers handing over their money for.
The price alone is a huge point, and even at $1999, I would still have the same feelings I do. At $2000, it's an incredible device, but at $1200, it's a steal. I have absolutely no regrets on any dollar spent with the Yoga 2 Pro. I think Lenovo has priced it to beat out everyone, but they just don't market it well enough to compete with Samsung or Apple.
What's Not
Trackpad Isn't That Great: This is about all I could complain about, but it's something I didn't personally use that much. I use a plugged-in mouse, which is the only way I can do it. On the times that I did use the trackpad, I didn't like it that much. It's not a point that should stop you from buying the Yoga 2 Pro, unless you do tend to use the Y2P's trackpad often.
Maximum of 8GB of RAM: Sometimes 8GB is not enough. Work out first if it's enough for what you intend on using it for.
Final Thoughts
I've been using the Lenovo Yoga 2 Pro for months now, replacing my MBA as my travel device. But what I didn't see coming was it becoming my daily driver. I use the Yoga 2 Pro as my everything machine, from writing news every day for TweakTown to writing reviews, watching YouTube videos, TV episodes (through the micro HDMI output, or even on the Y2P itself), and playing games with my daughter.
The four modes that the Yoga 2 Pro is capable of is a massive selling point as this isn't just some traditional Ultrabook. This is an everything machine, something that Lenovo heavily pushes; it happens all in the background, which is nice.
It's not low on power with the ability to customize a Y2P right up to the Core i7 processor, 8GB of RAM, 512GB SSD, and that gorgeous 13.3-inch 3200x1800 display. The display itself is a shining point, but there are so many shining points on this device: its touch-capable display, huge power, great keyboard, four different modes, and its incredible price.
Lenovo has killed it with the Yoga 2 Pro, but what excites me--and more so intrigues me--is where it'll go next. What can we expect? I don't think we'll see the company increase the amount of pixels on the screen, but maybe a bigger SSD, more USB ports (would be nice), and possibly varying screen sizes, such as a 15-inch (or so) model.
If you're in the market for a new Ultrabook, the Lenovo Yoga 2 Pro needs to be at the top of your list; look at it first, and then at its competitors. You will not regret the money spent on this device, I assure you. It's true craftsmanship from top to bottom.
PRICING: You can find the Lenovo Yoga 2 Pro for sale below. The prices listed are valid at the time of writing but can change at any time. Click the link to see the very latest pricing for the best deal.
United States: The Lenovo Yoga 2 Pro retails for $1,202.73 at Amazon.
Canada: The Lenovo Yoga 2 Pro retails for CDN$1,999.00 at Amazon Canada.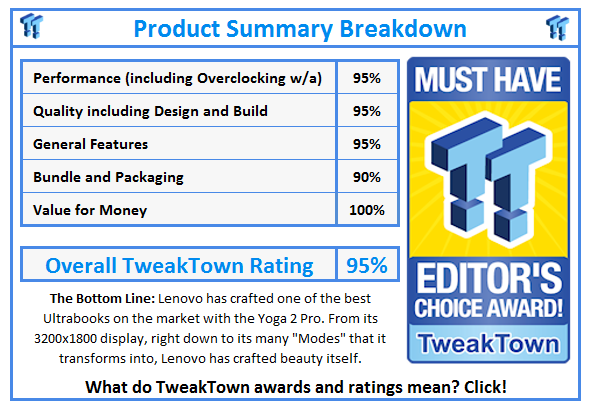 PRICING: You can find products similar to this one for sale below.

United States: Find other tech and computer products like this over at Amazon.com

United Kingdom: Find other tech and computer products like this over at Amazon.co.uk

Australia: Find other tech and computer products like this over at Amazon.com.au

Canada: Find other tech and computer products like this over at Amazon.ca

Deutschland: Finde andere Technik- und Computerprodukte wie dieses auf Amazon.de
We openly invite the companies who provide us with review samples / who are mentioned or discussed to express their opinion. If any company representative wishes to respond, we will publish the response here. Please contact us if you wish to respond.