NVIDIA GeForce GTX 980, GTX 970 spotted in ASUS, GIGABYTE models
ASUS, GIGABYTE branded next-gen GPUs from NVIDIA listed, expect the GeForce GTX 980 to be announced soon.

Published Sat, Sep 6 2014 6:29 AM CDT
|
Updated Tue, Nov 3 2020 12:14 PM CST
It looks like NVIDIA is all set to launch its next-gen GPU, which should be skipping the GeForce GTX 800 series and moving onto the GTX 900 series with two GPUs to be launched at first.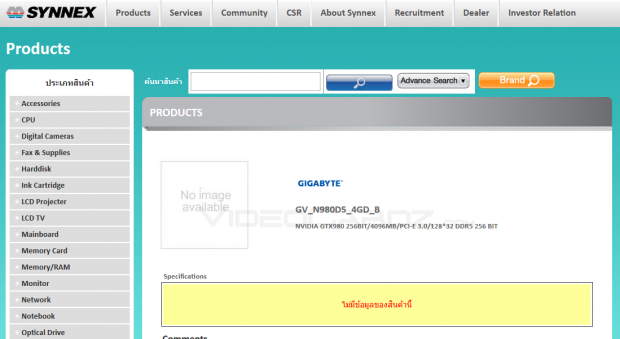 According to Synnex, an international distrbutor of PC hardware, ASUS is preparing two GeForce GTX 900 series cards. First, we have the reference GeForce GTX 980 with what should arrive as the reference cooler for the GTX 980, then a second model: the STRIX GTX 970. This model should feature ASUS' custom cooling setup, the DirectCU II. We will see a quieter, cooler card with factory overclocking applied.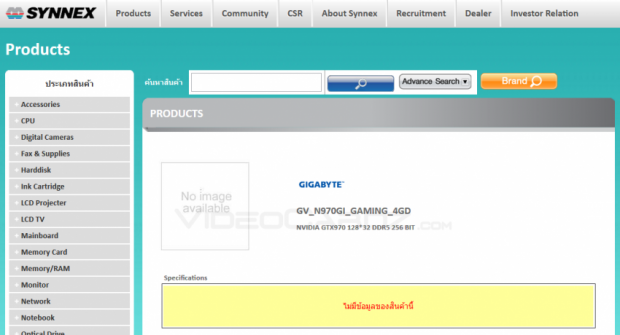 Then we have two entries for the GIGABYTE GeForce GTX 900 series, also from Synnex. The first model is the GeForce GTX 980, another reference card, backed up by a custom GTX 970. GIGABYTE's GeForce GTX 970 G1 Gaming card should also feature a custom-designed cooling solution, and overclocked. Both the GTX 980 and GTX 970 cards are listed with 4GB of RAM across a 256-bit bus, so we're not going to see massive changes in the skipped-a-generation GPUs at the GPU-hungry 4K resolutions, and above.
Both of the GTX 970 options sound like some cheap, fast, and cool GPUs perfect for an SLI setup. Then the question remains, why aren't we seeing custom GX 980s? According to VideoCardz.com: "AIBs were unable to finalize the designs until GTX 980 development was finished. So technically 'at launch' only GTX 970 should be available with custom-made flavor. Custom GeForce GTX 980s still needs some work, so add extra week or two before seeing more cards with (hopefully) full GM204 silicon. (It doesn't mean you won't be seeing renders or engineering samples, we're talking about availability in stores)."
We should expect NVIDIA to launch these GPUs in the coming weeks, according to all of this rumored information coming out in higher amounts. But what is the justification of NVIDIA skipping the GTX 800 series? These new chips won't be 16nm, but most likely tuned 28nm which the current GTX 700 series is built on. Right the current specifications, the GTX 980 will be toe-and-toe against the GTX 780 Ti, so we can expect some confusion there. The next thing to wait for is the full GM210 chip, which should be much more powerful than the GM204 that the GTX 980 will arrive with.
Related Tags