1000 strong robot swarm can make shapes on command
Robot swarm is able to receive a shape command and build it by shuffling into place over several hours.
Published Fri, Aug 15 2014 8:03 AM CDT
|
Updated Tue, Nov 3 2020 12:15 PM CST
Researchers around the world are working on robotics to make them able to operate on their own and perform complex tasks. In the US, a group of engineers has designed a swarm of 1000 tiny robots that are able to shuffle their way into specific shapes when told to. Each of the bots is given an image of the shape controllers want and then they work together to make the shape.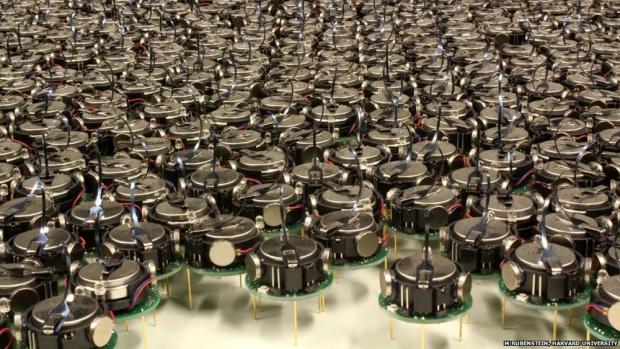 It's not a fast process; it reportedly takes about 12 hours for the bots to take the desired shape. This is the largest swarm of robots to ever be used in a study of this type. Researchers from the group behind the project say that each of the bots is identical and have the exact same program.
The throng of robots is inspired by cells that form organs or ants that are able to build bridges to span water. The team hopes that knowledge gleaned from this study will help develop self-assembling tools and structures in the future. Each of the little bots is 3cm across and said to be about the size of a sushi roll and each has three straight legs. Commands are given using an infrared light overhead and a sensor on the robots.
Related Tags