Arnold announces official title of Terminator 5: Terminator Genisys
Arnold Schwarzenegger announces the official title of the new Terminator movie, Terminator: Genisys, tweeting an announcement photo.

Published Thu, Aug 7 2014 3:03 AM CDT
|
Updated Tue, Nov 3 2020 12:15 PM CST
Arnold Schwarzenegger has taken to Twitter to thank the cast and crew of the new Terminator movie, getting fans to begin their excitement for its release on July 1, 2015.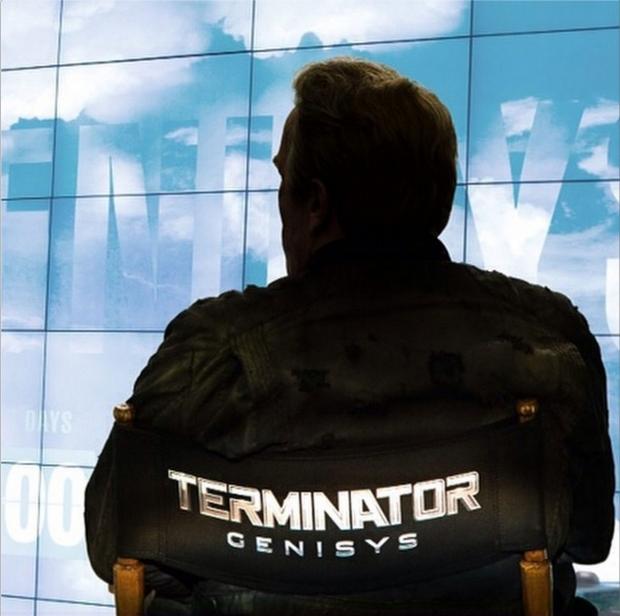 Schwarzenegger posted a picture of himself sitting on his chair, with the official title of the movie on the back: Terminator Genisys. He posted the picture to his Instagram account, with the following caption: "Hasta la vista, baby. I want to thank the cast and crew of @TerminatorGenisys for a fantastic shoot. It was challenging, it was fun, and it was rewarding. From our director to the producers, from the camera team to catering, from visual effects to hair and makeup - we couldn't have done it without you. I can't wait to see our finished project and I know we'll remind the fans why they fell in love with the Terminator. On July 1, 2015, I'll be back".
This is where it gets interesting: instead of it being called Terminator 5, or Terminator Genesis, we have Terminator Genisys. Schwarzenegger is sitting in front of a screen with the word "Genisys" on it, so we might expect the operating system for the T-800 to possibly be called Genisys? I think that's what we should expect from this, and while I'm trying not to get too excited about the new Terminator movie, I still can't wait to check it out next year.
Related Tags