Watch Dogs performs much better on NVIDIA GPUs, AMD slips
NVIDIA worked closely with Ubisoft, leaving AMD GPU's unoptimized on Watch Dogs.

Published Mon, May 26 2014 6:06 PM CDT
|
Updated Tue, Nov 3 2020 12:16 PM CST
With Watch Dogs going on sale tomorrow, and some people already enjoying the open-world hacking title - but with Bitcoin miners attacking their system - NVIDIA GeForce owners are going to be enjoying increased performance, and better graphics.
NVIDIA worked closely with Ubisoft Montreal for Watch Dogs, as it fell under NVIDIA's Gameworks program. NVIDIA's Gameworks helps developers with a set of tools in order to fully utilize all of NVIDIA's technologies, something we saw in a video not too long ago. This is great for NVIDIA users, but AMD Radeon owners will not see these extra effects on PC, on top of reduced performance.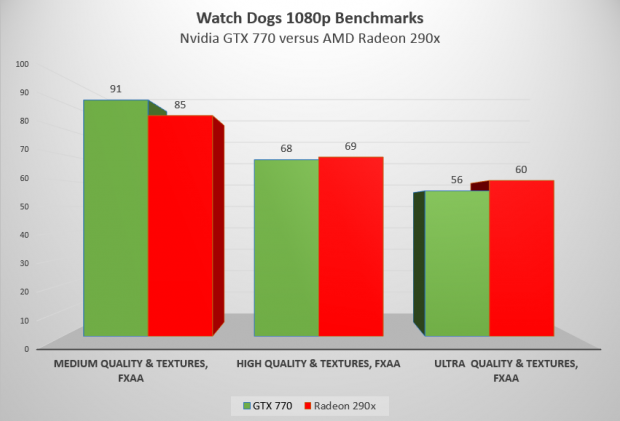 Forbes editor Jason Evangelho wrote a piece, benchmarking two cards against each other: the $500 Radeon R9 290X against the GeForce GTX 770 priced at $300. You can see in the image above that the $300 GPU does quite well for itself, keeping up with, and in one test beating the R9 290X which is $200 more. So, GeForce users - enjoy your increased performance and graphical bells and whistles enabled, but AMD fans - you're out of luck. It'll still run without a problem, but consider this like Mantle on Battlefield 4 - there are benefits on both sides of the GPU war.
Performance in Watch Dogs on AMD systems is something that AMD can't fix with a patch, something that Joel Hruska from ExtremeTech talked about last year, where he said: "AMD is no longer in control of its own performance. While GameWorks doesn't technically lock vendors into NVIDIA solutions, a developer that wanted to support both companies equally would have to work with AMD and NVIDIA from the beginning of the development cycle to create a vendor-specific code path. It's impossible for AMD to provide a quick after-launch fix. This kind of maneuver ultimately hurts developers in the guise of helping them".
Related Tags