DDR4 arrives at the TweakTown Enterprise Test Lab
The stats for DDR4 memory looks promising so far. We are excited to start testing to see just how well they perform.
Published Mon, May 12 2014 8:21 PM CDT
|
Updated Tue, Nov 3 2020 12:17 PM CST
New DDR4 memory might not be available for a while yet, but the first samples of DDR4 memory have made it to the TweakTown Enterprise test lab today, fresh from the fabrication labs.
"Crucial DDR4 Memory Technology Process data faster. Reduce power expenses. Extend battery life. Double a system's memory capacity as module densities mature. Crucial DDR4 memory technology is up to twice as fast and delivers 50% more bandwidth and 40% more energy efficiency than DDR3 technology when it was introduced. Designed to enable the next generation of enterprise and consumer products, Crucial DDR4 memory works with next generation processors and makes everything you do on a computer or server faster and more efficient than ever before."

" Servers are constrained by memory bandwidth, capacity, and ever-increasing power costs. With the increased performance and efficiency of Crucial DDR4 server memory, boost bandwidth by up to 50%, and reduce power consumption and the need for cooling. Enable up to twice the installed memory capacity and process data faster."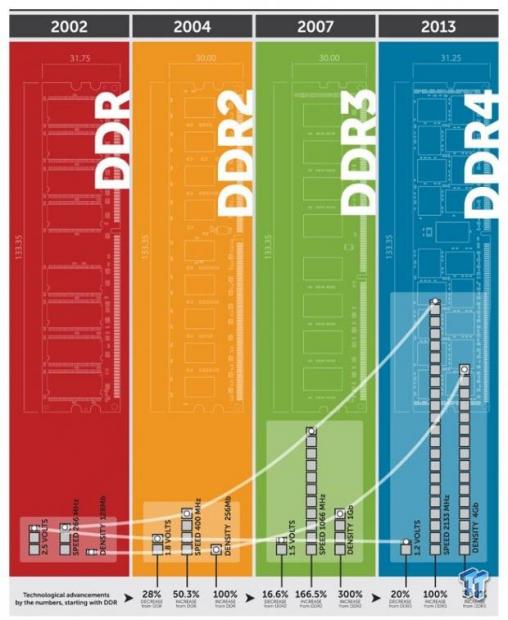 In addition to server's, new DDR4 memory will make its way into gaming systems, ultra books, laptops, desktops and workstations.
The sticks we received are 16GB, 288-pin RDIMM's with a speed of 2133MT/s and run at 1.2V with a CAS Latency rated at CL15.
If these numbers stack up in testing we expect LinX runs with close to 150 GFlops and AIDA memory benchmarks in the 135,000 MB/s read/write speed on server platforms.
It still is a bit early for DDR4, but expect to start seeing more news about these memory modules in the near future.
Related Tags