Tesla Model S owner fiddles with car's network and gets warned to stop
Man discovers a hidden Ethernet port inside Tesla Model S and uses it to sniff the network and receives a warning from Tesla for doing it.
Published Mon, Apr 7 2014 1:06 PM CDT
|
Updated Tue, Nov 3 2020 12:17 PM CST
An owner of a Tesla Model S was recently fiddling about with his car after discovering a hidden Ethernet port inside the vehicle. He cobbled together some sort of Ethernet cable and set about sniffing the car's network for fun.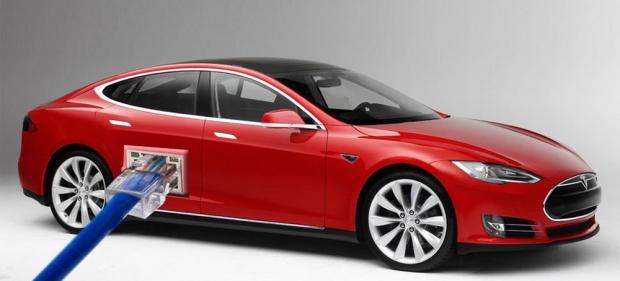 The owner found that the car has a 100 Mbps full duplex Ethernet network with three devices on it. The addresses on the network are in the 192.168.90.0 subnet and includes the center console, dashboard/nav screen and another unknown device.
He found that some of the ports and services were open and that Port 80 was being used to serve a webpage with the image or media for the current song being played. He also notes that the OS is a modified version of Ubuntu.
The interesting part is that the man says he received a call from a Tesla service center telling him that the Tesla USA engineer had seen a hacking attempt on his car. He told them he was the one messing around with the car and they warned him to stop to avoid voiding the car warranty. It's unclear how exactly they knew the car had been messed with. The man says that perhaps they saw his thread on a Tesla owner site where he was talking about what he found.
Related Tags