3D printing enthusiast rejoice, Slic3r version 1.0 is finally here
3D Printing would not be where it is today if it were not for Slic3r and its ability to cut 3D models into layers to print, and today, version 1.0 is here!
Published Mon, Mar 31 2014 3:17 PM CDT
|
Updated Tue, Nov 3 2020 12:17 PM CST
It's been more than a year in the making, but Alessandro Ranellucci has finally released Slic3r 1.0 to the masses. For those not in the know, Slic3r is the default-slicing program that most 3D Printing enthusiast, such as myself, use to slice the 3D models we wish to print into manageable layers. Slicer also handles the hard-work of plotting the tool-path head, injecting control coding, and spitting it all out into machine-readable GCode. While there are other slicing programs out there, Slic3r is by far the most popular and feature rich.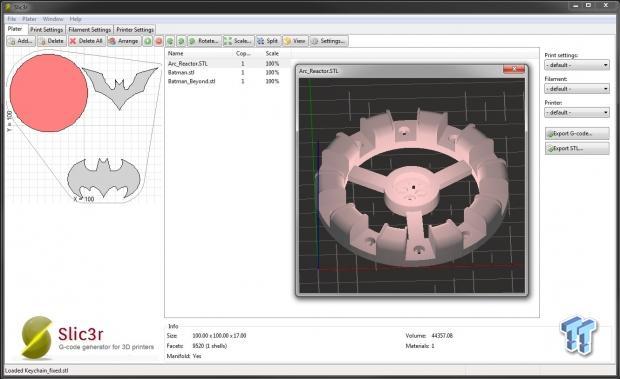 Today Slic3r 1.0 stable has been released and it brings with it, a myriad of new features as well as support for a host of new printers and tool-heads. As always, Slic3r 1.0 is fully open source, and free to download, modify and distribute as you see fit, making it fully Libre / Open Source compliant. A lot has changed in Slicer 1.0 so I fully recommend that you read the user manual before jumping straight into use.
Slic3r 1.0 boast the following new features as well as many more.
Wide printer compatibility,

Fast G-code generation,

Command line and graphical interface,

Multiple extruder functionality,

Automatic generation of support material,

Open source code, open development,

Brim features for best adhesion,

Smart cooling strategies to improve prints,

Many input/output formats,

Easy, dependency-free downloads for Linux, Mac OS X, and Windows, and

Microlayering to save time, increase accuracy.
Related Tags