Connected Data, the manufacturer of the Drobo line of external data storage solutions, announced today the release of the latest 4-bay Drobo system. This is the third generation version of Drobo with a lower price tag and three times the performance of the previous version. New features include USB 3.0, faster rebuild times, enhanced support for Apple's Time Machine, and the addition of battery back up. Pricing for this new Drobo starts at $349 with general availability starting late April, 2014.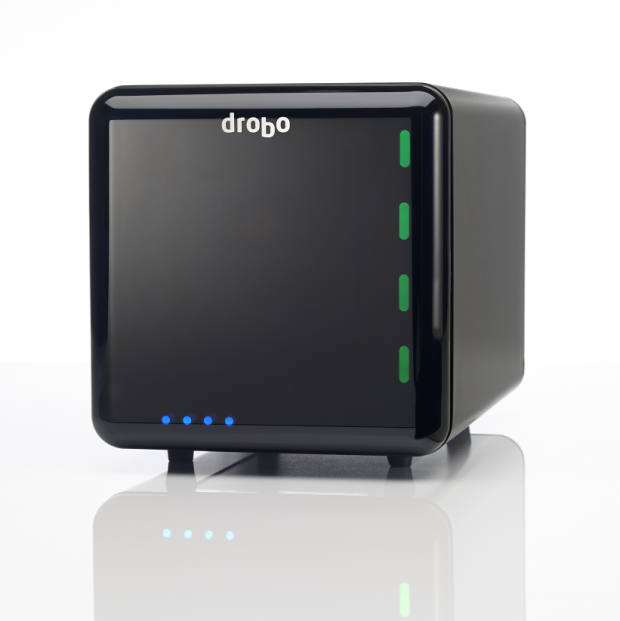 Like all Drobo products, the newest Drobo is built upon the BeyondRAID technology. BeyondRAID allows existing owners of Drobo appliances to seamlessly upgrade to a new Drobo by simply removing the disk pack from their current Drobo, and moving it to their new one. After upgrading, customers will see an instant performance boost and benefit from all the new Drobo features.
"With the addition of the latest generation of the best-selling Drobo, we are not only continuing with the simplicity that our customers appreciate, we are bringing added value in the form of investment protection to the owners of the previous two generations," said Joe Disher, Senior Director of Product Marketing at Drobo. "No other product in the market allows you to not only increase your drive capacity on-the-fly, but move drives from a current system and slide them into a newer, faster model without complexity or downtime."
In addition to boosts in general performance and rebuild times, Drobo has added enhancements specifically for users of Apple Time Machine. The latest Drobo release includes an integrated feature that allows simple allocation of a specific amount of capacity to be dedicated for Time Machine backups, preserving necessary storage space for all of the users other data.