NVIDIA's first Maxwell GPUs arrive in 28nm trim not the expected 20nm
NVIDIA's new Maxwell GPUs make an appearance in the form of leaked images, will be featured in the GeForce GTX 750 and GTX 750-Ti video cards.
Published Thu, Feb 6 2014 9:24 AM CST
|
Updated Tue, Nov 3 2020 12:18 PM CST
We have been expecting to see NVIDIA's successor to its Kepler GPU for some time now, and this morning images were leaked on VideoCards.com that are said to be the first Maxwell architecture GPUs off the line. Although a but blurry, the GPU's are clearly visible, but something unexpected lies below the surface.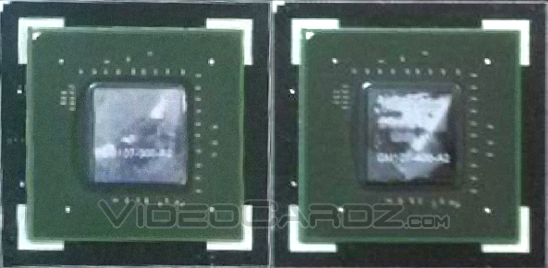 The GM107-400 and GM107-300 pictured above both feature the same CUDA cores found in the GK106 chip but utilize the memory bus of the GK107 which shrinks the die by about 30-percent. This also allows the cards to consume significantly less power, so much so that the GeForce GTX 750 cards featuring the GM107-300 will not require any power connector on the board.
The GM107-300 is built on a 28nm process with a die size of 156mm square. It features 768 CUDA cores with a 128-bit memory bus. The GM107-400 is also built on a 28nm process and has a die size of 156mm square, but differs with 960 CUDA cores. Both chips feature a TDP of about 75 watts with the GM107-300 variant being a little cooler. The GM107-300 is slated to be featured in the GeForce GTX 750 while the GM107-400 will find its way into the Ti variant of the same card.
For months now, we all have been expecting Maxwell to arrive on a 20nm process, but the first Maxwell chips are actually built on a 28nm process. Why 20nm was not utilized is anyone's guess, but some say that TSMC was just not ready to manufacture it. For now the new Maxwell chips are destined for the NVIDIA 700 series cards with the 800-series being saved for the 20nm chips when they arrive.
Related Tags