Late last year, BlackBlaze, a online backup hosting provider published a comprehensive study on hard drive failure rates based on the 25,000 units it has in service. While no manufacturer names were published, the study stated that failure rates were highest in the first 18 months of service or as well as after the first three years.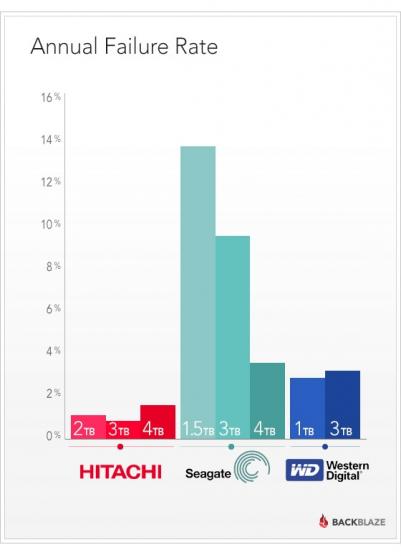 Today the company released the second part of its report and has officially gone on record and listed out which brands are associated with the study. Unfortunately, Seagate appears to be the worst with an annual failure rate of about 14-percent on its 1.5TB model while its 3TB and 4TB models are likely to see 10-percent and 4-percent fail within the first 12 months.
Western Digital's 1TB and 3TB models fare better in the survey with annual failure rates between two and three percent respectively. Surprisingly Hitachi branded hard drives are the most reliable with the 2TB, 3TB and 4TB models all experiencing less than a 2-percent annual failure rate. The study even goes as far as to note that Seagate's Barracuda LP 2TB and Western Digital's Green 3TB both begin accumulating errors as soon as they are spun up for the first time.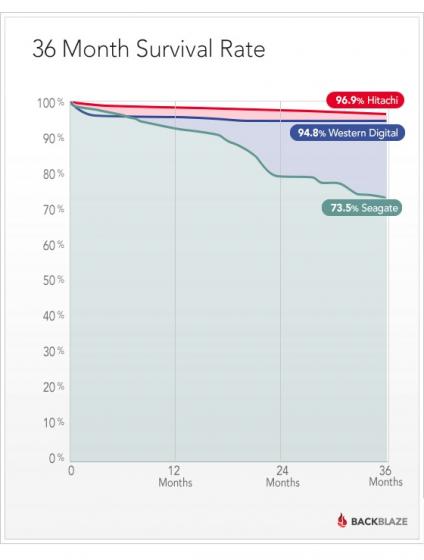 Over the long-term Hitachi again comes out on top with almost 97-percent of its drives surviving past 36 months, while Western Digital comes in a close second with about 95-percent of its spinners still running after three years. Seagate is once again the loser here with only 73.5-percent of its hard drives making it into their third year of service. The graph above is very telling as well with failure of Hitachi drives increasing linearly as the three year mark approaches, but Western Digital's drives seem to be more apt to fail between the 12 and 18 month mark.
Seagate on the other hand is more of a rush down a very rough mountain side with a 10-percent failure rate in the first 14 months, and a steep increase in failures around the 15 month to 24 month period before leveling off again. Around 26 months things take another cliff dive and failure rates again increase quickly as the three year mark approaches. If this study is any indication, the age old question appears to have been answered and Seagate's hard drives are the least reliable, with Hitachi taking home the gold for the most reliable spinners on the market today.