Broadcom triples home Wi-Fi speeds with its new 5G Wi-Fi offerings
Broadcom amps up wireless speeds for your home with 5G Wi-Fi.

Published Tue, Jan 7 2014 12:02 AM CST
|
Updated Tue, Nov 3 2020 12:19 PM CST
CES 2014 - Broadcom has just unveiled its super-speed 5G Wi-Fi chips, which will be capable of tripling the typical bandwidth found in the average consumers' home.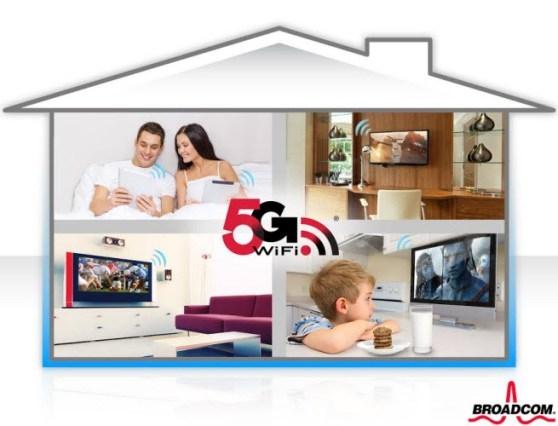 Broadcom announced the new technology at CES 2014, where it will make it easier to stream video through routers, gateways, STBs, digital TVs, and much more in the home. The company is offering up two 5G Wi-Fi systems that will hopefully break through any walls in any home, with the chips capable of reducing interference when one person plays an online game, while another streams video content from one device to another.
The new Broadcom BCM43569 wireless networking chip will allow smart TVs to receive both Wi-Fi and Bluetooth signals, simultaneously. Better yet, the BCM43602 can offline processing from a CPU for Wi-Fi networking, with both chips offering support for beamforming, or taking advantage of noise to increase available bandwidth.
Rahul Patel, Vice President of Marketing for Wireless Connectivity Combos at Broadcom, said: "As the first company to deliver 5G Wi-Fi across all product segments, Broadcom continues to lead innovation and engineer even more powerful next-generation 5G Wi-Fi products that support today's content-hungry consumer. Our new advanced solutions bring consumers an elevated video streaming experience across the wirelessly connected home and provide OEMs with the benefits of improved system cost and form factor."
Phil Solis, Research Director at ABI Research, chimed in with: "By the end of 2014, 802.11ac is expected to be included in more than 50 percent of total Wi-Fi ICs shipped. By maximizing the wireless connectivity performance in connected home devices, Broadcom continues to help drive the industry adoption of 802.11ac technology across all product segments."
Related Tags