iPad mini Retina display of color gamut and accuracy is not the best
iPad mini with Retina doesn't appear to have the best colors.
Published Mon, Nov 18 2013 7:10 PM CST
|
Updated Tue, Nov 3 2020 12:20 PM CST
Although the screen still looks great, the color gamut in the iPad mini with Retina colors are not up to par with other tablets in its league, for example the Nexus 7 and Kindle Fire HDX. The color gamut on the iPad mini Retina is essentially the same as the original one-year old iPad mini. Some users are disappointed with this.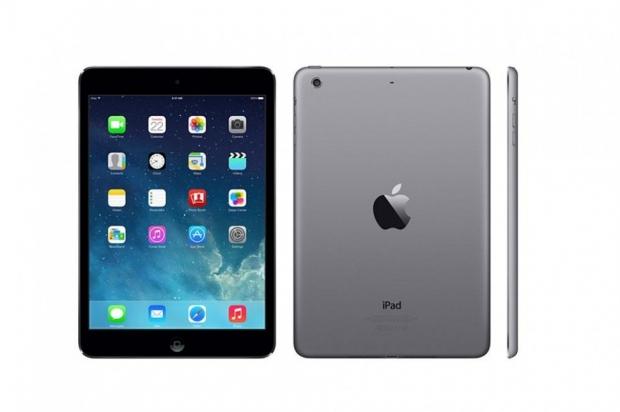 AnandTech were very impressed with the iPad mini with Retina but were disappointed in its color gamut: "Although display resolution is no longer a concern on the mini, color gamut hasn't changed between the old and new minis. The iPad mini with Retina Display has the same color gamut as the standard iPad mini, which is narrower than the iPad Air and less than the sRGB coverage we normally look for. The biggest issue here is that there are other smaller tablets in this price range that do offer sRGB coverage" (e.g. Nexus 7, Kindle Fire HDX 8.9)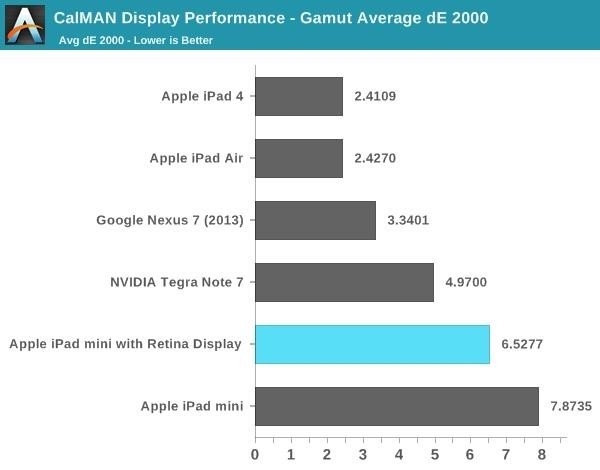 Ray Soneira from DisplayMate did a comparison with the HDX 7 and Google Nexus 7 and puts the iPad mini Retina in 3rd place: "The iPad mini with Retina Display unfortunately comes in with a distant 3rd place finish behind the innovative displays on the Kindle Fire HDX 7 and new Nexus 7 because it still has the same small 63 percent Color Gamut as the original iPad mini and even older iPad 2. That is inexcusable for a current generation premium Tablet. The big differences in Color Gamut between the Kindle Fire HDX 7 and Nexus 7 and the much smaller 63 percent Gamut in the iPad mini Retina Display were quite obvious and easy to see in the side-by-side Viewing Tests. This all appears to be due to incredibly poor planning. Instead of moving up to the higher performance (and cost) Low Temperature Poly Silicon LCDs, Apple chose to continue gambling on IGZO, which has resulted in both production shortages and inferior products."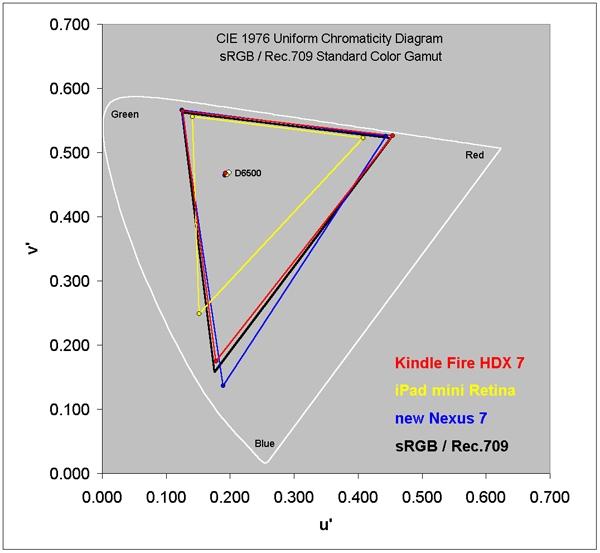 Related Tags