Today VisionTek announced the launch of five new AMD Radeon R Series graphic cards that are designed to provide extreme performance at almost any budget level. The new cards are built on the AMD Radeon R7 and R9 series GPUs and feature some very powerful features with prices starting at just $69.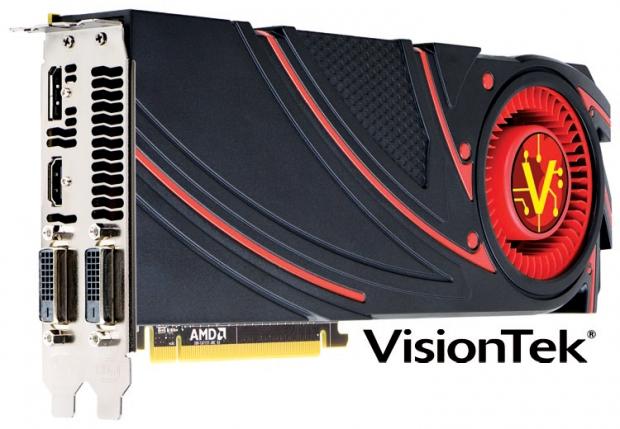 The newly introduced video cards are comprised of three R7 series and two R9 series GPUs. These two new lines of GPUs from AMD are the first to offer support for DirectX 11.2 and the stunning 3D visual effects, life like visuals and realistic lighting this new standard brings forth. The cards also offer AMD's PowerTune, ZeroCore and App Acceleration technologies that greatly enhance not only the performance, but the entire user experience.
"We're very pleased to announce a new line of high performance graphics cards utilizing AMD's incredible new R7 and R9 Series GPUs," said Mark Bilson, Executive Vice President of VisionTek. "Our cards will redefine the gaming experience due to their visual, audio, and compute capabilities. And because they're priced attractively, these cards should be among the best-selling tech products in the fourth quarter. To coin a phrase from AMD, 'Radeon Is Gaming' truly defines our new line."
Below is a list of each of the new video cards along with their key highlights.
VisionTek Radeon R7 240
Memory: 2GB 128bit DDR3

Base Clock Speed: 730MHz

Outputs: DVI-D + VGA + HDMI

Cooling: Single fan 1 slot

MSRP: $79.00
VisionTek Radeon R7 250
Memory: 1GB 128bit DDR5

Base Clock Speed: 1000MHz

Outputs: DVI-D + VGA + HDMI

Cooling: Single fan 2 slot

MSRP: $99.00

3DMark Fire Strike: greater than 2000
VisionTek Radeon R7 260X
Memory: 2GB 128bit DDR5

Base Clock Speed: 1100MHz

Outputs: DVI-I + DVI-D + HDMI + DP

Cooling: Dual fan 2 slot

MSRP: $149.00

3DMark Fire Strike: greater than 3700

Includes AMD TrueAudio technology for realistic audio
VisionTek Radeon R9 270X
Memory: 2GB 256bit DDR5

Base Clock Speed: 1000MHz

Outputs: DVI-I + DVI-D + HDMI + DP

Cooling: Single fan 2 slot

MSRP: $209.00

3DMark Fire Strike: greater than 5500
VisionTek Radeon R9 280X
Memory: 3GB 384bit DDR5

Base Clock Speed: 800MHz

Outputs: DVI-I + HDMI + 2 x mini DP

Cooling: Dual fan 2 slot

MSRP: $309.00

3DMark Fire Strike: greater than 6800