Steam to begin allowing friends and family to share games
Steam says it will allow close friends and family members who share computers to share their libraries on Steam.
Published Wed, Sep 11 2013 1:27 PM CDT
|
Updated Tue, Nov 3 2020 12:21 PM CST
Steam has just announced a new service that will allow close friends and family members to share their libraries of games with each other. The service will not however be available to everyone in the beginning. Next week the company will launch Steam Family Sharing and limited beta form while they iron out the bugs.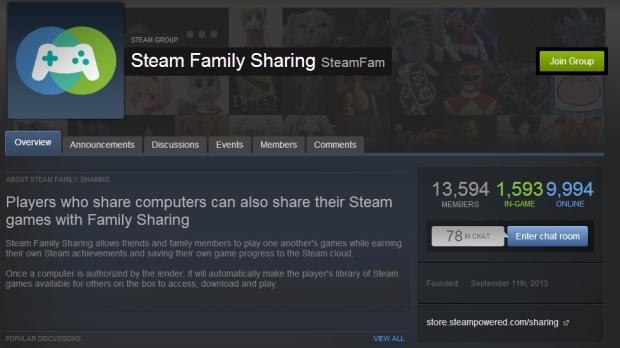 Steam Family Sharing is designed to allow close friends and family members the ability to play each others games while the earning their own Steam achievements and storing their own saves in the Steam Cloud. This new feature is enabled by authorizing a shared computer to your steam library, and Steam says that up to 10 devices may be shared per account at any given time.
Unfortunately not all steam games will be able to be shared such as some third-party games that require a separate key to play. Additionally subscription-based games will not be able to be shared either. Shared games can only be played by one user at a time, meaning you and your friend cannot use the same shared game to go head-to-head against each other.
"Our customers have expressed a desire to share their digital games among friends and family members, just as current retail games, books, DVDs, and other physical media can be shared," explained Anna Sweet of Valve. "Family Sharing was created in direct response to these user requests."
Steam says that if the owner of a shared game wishes to play the game while his friend is playing the same game on a shared account, the user who is playing the shared game will be notified in game and will be given the option to purchase the game or quit playing. Once the original user has completed his gaming session, the shared user may then resume playing.
Finally steam says that borrowers will have access to the lenders DLC, but will not be able to purchase DLC for a base game they do not own. However, any player may purchase, trade, earn or otherwise acquire in-game content while playing a game, but the in-game content cannot be shared between account.
Related Tags