Prepare yourselves for another dimension of NAND flash storage, with Samsung Electronics, Toshiba and Micron Technology all recently talking about their 3D NAND flash memory developments.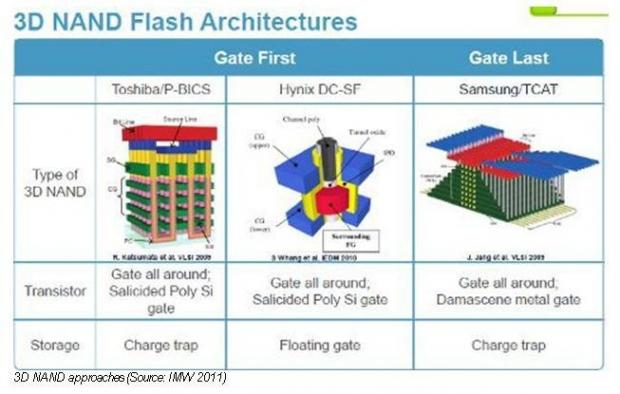 The three vendors' 3D NAND flash chips are expected to reach early stage production during 2014-2015, where we'll see a commercial release in the years to follow, according to market sources. The success of 3D NAND will of course come down to market adoption of new end products featuring the flash memory, which will dictate when it's ready to take center stage for commercial-scale production.
South Korean-based giant Samsung is said to be ahead of the pack in terms of the development of 3D NAND flash memory, with Samsung claiming it has begun mass production of 3D NAND flash for consumer electronics and enterprise applications such as embedded NAND storage and SSDs this month. The South Korean giant has a new 12-inch fab in Xian, northwestern China, which will also take care of the 3D NAND production.
Samsung is also said to run the new NAND flash fab sometime next year. Toshiba on the other hand, recently started construction on a new fab at its Yokkaichi operations based in Japan, with the new capacity expected to arrive in summer 2014. This factory will produce 3D NAND memory, as well as chips based on more advanced node technologies. The Japan-based Toshiba is expected to reach mass production of 3D NAND flash in 2015, which is an estimate according to industry sources. Toshiba will is reportedly already delivering samples of 3D NAND.
Finally, we have Micron, whose CEO said that the company would start handing out 3D NAND flash samples to customers in the first quarter of next year.