Teenager discovers iPad Smart Cover magnets can turn off pacemakers
14-year-old discovers the the Smart Cover accessory for the iPad can turn off pacemakers.

Published Fri, May 10 2013 5:35 AM CDT
|
Updated Tue, Nov 3 2020 12:23 PM CST
The tiny magnets inside of the iPad are capable of turning off implanted defibrillators if the iPad is left on the chest, something that was discovered by a fourteen-year-old.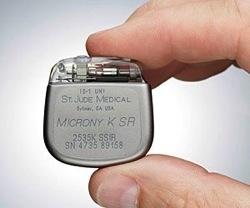 This isn't a problem for most, and even those with pacemakers, but if you were using your iPad in bed and had a pacemaker, and fell asleep - well, ther could be a serious issue. Gianna Chen discovered the problem as part of a science fair project that didn't win first place, instead, she'll be presenting her findings to 8,000 doctors at a meeting of the Heart Rhythm Society in Denver. Bloomberg reported the news, adding:
The research offers a valuable warning for people with implanted defibrillators, which deliver an electric shock to restart a stopped heart, said John Day, head of heart-rhythm services at Intermountain Medical Center in Murray, Utah, and chairman of the panel that reviews scientific papers to be presented at the Denver meeting.

If a person falls asleep with the iPad2 on the chest, the magnets in the cover can "accidentally turn off" the heart device, said Chien, a high school freshman in Stockton, California, whose father is a doctor. "I definitely think people should be aware. That's why I am presenting the study."
Related Tags