Hands-on video with Acer's take on cloud storage, AcerCloud
We get an introduction to AcerCloud at the Acer HQ in Taipei.

Published Thu, Mar 7 2013 8:33 AM CST
|
Updated Tue, Nov 3 2020 12:24 PM CST
Today we were invited out to the Acer headquarters here in Taipei, Taiwan where we were given an introduction to the company's take on cloud storage which they named AcerCloud.
Acer's cloud system is different ones such as Apple's iCloud, Google's Drive or Dropbox. Instead of sending your data up into the cloud, AcerCloud is more personal in nature. In technical terms, that means that your data is not stored on servers on the web. The data is instead accessed from your PC or laptop which has AcerCloud software installed and is of course connected to the internet.
AcerCloud launched towards the end of last year, but it was our first chance to go hands-on with it today, and it's quite good. Within AcerCloud are separate applications including clear.fi Media, clear.fi Photo, clear.fi Music, clear.fi Video. Each app handles different files and allows you to view saved files on any device with AcerCloud - that is a PC running Windows 7 or Windows 8, and iOS device running OS version 5.0.1 or above and any Android device running OS version 2.3 and above.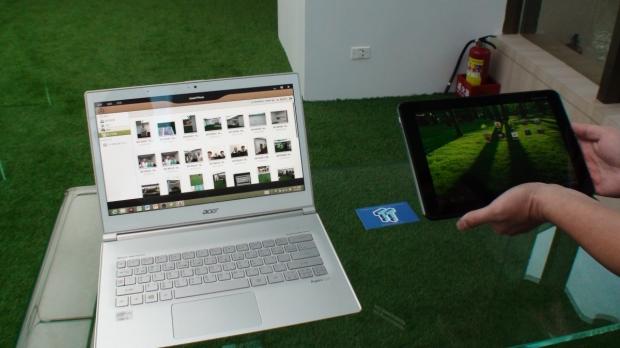 What makes AcerCloud quite good is the AcerCloud Docs app. With the Docs app anytime you save a Word doc, PowerPoint file or Excel file, and no matter where they are saved on your PC, they will automatically be accessible by devices connected to your AcerCloud. There is no need to save the file to a certain location - it's just ready to go. That was one of the big impressions we got about AcerCloud, it's designed to be very easy for anyone to use.
AcerCloud software is free and can be run on any computer, however to sign-up to the AcerCloud service, you do need at least one Acer device be it an Acer computer, laptop or tablet. You are able to link up to 32 total Acer devices to your AcerCloud service. You have the ability to link up to eight non-Acer devices such as iPads, iPods and iPhones or Android tablets from competitor brands such as Samsung. To make that very clear, you could have eight non-Acer devices connected and that would leave room for a remainder 24 Acer devices to be connected.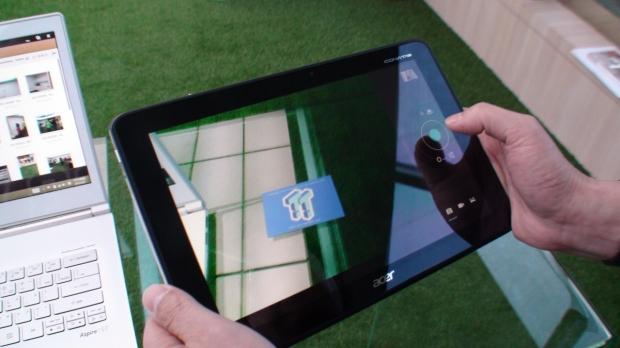 Acer has security covered, too. If you happen to suffer theft or you lose one of your devices, you can simply use any computer or mobile device connected to the Internet, login to your AcerCloud account, and remove that device from your service. When they device gets internet access, all of your data will be removed and the user will not be able to access your other connected AcerCloud devices. We asked Acer if they had cloud storage options available, but at this time all data is stored on your devices. Acer is currently looking into offering paid cloud storage due to customer demand.
Above you can get a quick hands-on look at the service in the video where we take a look at clear.fi Photo. While not entirely new, it was cool to see a photo taken on the nearby Acer tab and see it appear almost instantly on the Acer laptop next to it - and in a nice visual way, which was also very easy to use.
Related Tags