The first image of the upcoming expansion to Battlefield 3 "Aftermath" has hit Reddit, as a timed exclusive. You can see in the photo that one of the guys is holding a crossbow, which is going to be very, very interesting in-game.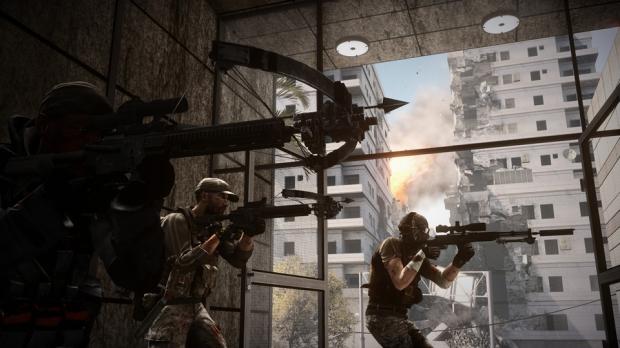 "crash7800" which is Battlefield 3's Community Manager on Reddit, pointed out the crossbow, stating in a post "quake environment, survivors are modifying weapons what they get their hands on to work. The crossbow is one example, but vehicles will see more of this kind of treatment as well... :D".
Using the great words of Jim Carrey, alllllrighty then! This is going to be great if DICE can pull this off - the management of weapons in-game, would make the first-person shooter feel much more like Team Fortress 2, and that can only be a good thing. Now, if only my Origin account wasn't hacked, with EA not returning any of my messages about it, I'd be playing Battlefield 3 more. For now, I'll just salivate over this image of Aftermath.
Update: EA contacted me after seeing this post and recreated my Origin account. Sweet relief!