LG's 'phablet', the Optimus Vu II has just had its specs officially unveiled by the South Korean company, where we've found out it will be sporting a new CPU, some more RAM and some extra goodies. The phone sports a 5-inch 4:3 display but ramps up some of the specs, while meeting some previously rumored specs.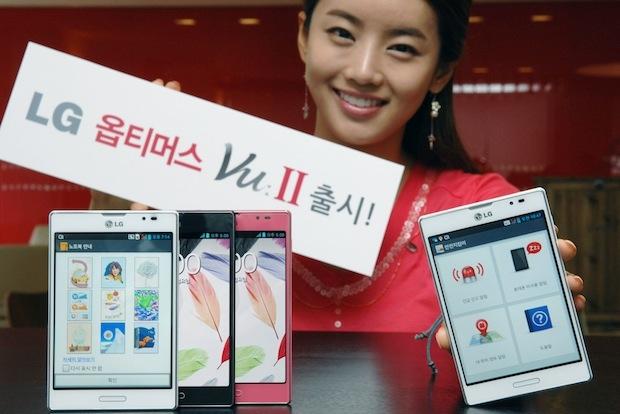 Optimus Vu II sports a 1.5GHz dual-core processor, more specifically the Qualcomm MSM8960, 2GB of RAM versus its predecessor's 1GB of RAM, and a battery that is slightly bigger than the previous Vu, at 2,150mAh. Optimus Vu II will only ship with Android 4.0 Ice Cream Sandwich, but will include an integrated IR blaster, QRemote software, and VoLTE capabilities.
LG are also throwing in a Rubberdium Pen 2.0 stylus, which sports a thinner, more precise nub (why do I feel dirty saying that?). LG have also put on offer an optional "One Key" accessory, which actually sounds pretty damn cool - it is a waterproof fob that is destined for your key ring, and can be pressed at anytime if you can't find your phone. Your Optimus Vu II will then let off loud beeps until you find it. One Key will also flash blue or red if there are any messages or if the smartphone has finished charging.
There's no US ETA or pricing at the moment, but in Korea it will set you back $864.